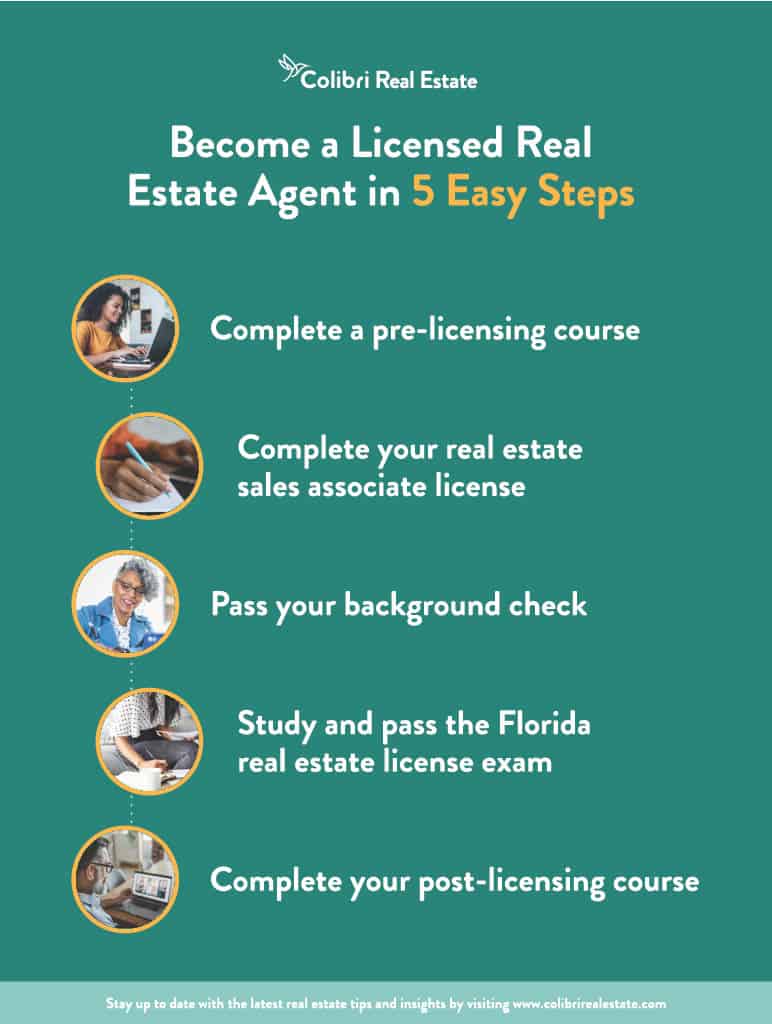 To work as a real estate agent in Florida (and any other state), you must earn your real estate license. The process will take a few months – and a moderate financial investment. But as soon as you are fully licensed, you will be able to start earning commissions as a buyer's or seller's agent.
We want to help you with the process of earning your Florida real estate license. Here's what we learned from Florida's Division of Real Estate about the licensing process.
How to Become a Real Estate Agent in Florida
You must be at least 18 years old, have a Social Security number, and a high school diploma (or equivalent) to become a real estate agent in Florida.
You don't need a college degree to become a real estate agent. However, you do need to take courses and sit for an exam. Here are the details:
Step 1: Complete a pre-licensing course.
The first step to becoming a Florida real estate agent is to complete a 63-hour pre-licensing course. The course needs to be ARELLO-approved. (Arrelo stands for Association of Real Estate License Law Officials.)
Most people find it easier to complete their coursework online during their spare time – especially if they are working and have family commitments. Online courses make it easier to review complicated materials. Students also like being able to study at their own pace. In addition, online real estate schools are typically more affordable.
You'll learn about real estate law, financing, and ethics during your courses. You must thoroughly understand these subjects to pass your real estate exam (more on that later) – and to guide your future clients through one of the most significant financial decisions of their lives.
So, choosing a high-quality real estate school is vital. Select a school that presents the material in a compelling, easy-to-understand format. Otherwise, the 63 hours of coursework may take months to complete.
(If you have a bachelor's degree in a real estate-related field or are a member of the Florida Bar Association, you may be eligible to skip the pre-licensing coursework.)
Step 2: Complete your real estate sales associate license application.
Create an account with the Department of Business and Professional Regulation (DBPR) to get started with your online application. There are printable applications if you prefer.
The Florida real estate sales associate license application fee is $83.75. Military members and their spouses may be eligible to have this fee waived.
You'll be asked to provide your Social Security number and legal name shown on your government-issued IDs. There will be a series of questions to answer regarding your criminal history, legal investigations, and previous licensures.
You'll also need to submit your course completion paperwork. The course completion certificate expires after two years.
Step 3: Pass a background check.
The next step in getting your Florida real estate license is to complete a background check.
This step is completed partly when you provide background information on your license application. The next phase of this process requires you to be fingerprinted.
Expect to pay around $50 to a Livescan vendor approved by the Florida Department of Law Enforcement to facilitate the fingerprinting process. You need to bring two forms of ID when fingerprinted, and you may need to make an appointment.
Please note that a real estate agent needs to be of good moral character. However, having a criminal history does not necessarily limit your opportunity to become a real estate agent. It depends on the type and severity of the crime.
Step 4. Study for and pass the Florida real estate license exam.
Once your application is approved by Florida's DBPR, you'll receive an official authorization letter from Pearson VUE with instructions on how to schedule your exam.
Pearson Vue administers the real estate exam in Florida—review Pearson Vue's Candidate Information Booklet to understand ID and test-taking requirements. The test costs $36.75 and is three and ½ hours long. You can take the test in person or online.
Your pre-licensing coursework will prepare you (in part) to take the real estate license exam. However, most people spend time studying for the test.
Some real estate schools include test prep materials with pre-licensing packages. Otherwise, you may have to buy exam prep materials with practice exams to ensure you are prepared for your test.
Step 5: Complete your post-licensing course.
Within 18 to 24 months of obtaining your Florida real estate license, you must complete a 45-hour post-licensing course, pass a course test, and submit your completion records to the Florida DBPR.
This initial renewal must be completed, or you will lose your license. Subsequent renewals will still require that you take continuing education classes.
Colibri Real Estate Can Help You Earn Your Florida Real Estate License
Bookmark the Colibri Real Estate website because we will be your good friend throughout your entire real estate career.
Colibri Real Estate School (formerly Real Estate Express) is the best choice for pre-licensing education. The courses are expertly formatted and effectively explain complicated material. In addition, we provide state-approved instructor support, and most of our real estate education courses come with exam prep materials.
Colibri Real Estate School offers your required post-licensing courses – and quality continuing education. And we'll help you pass your broker's license test when you are ready to upgrade your Florida license.
Within minutes you could get started earning your Florida real estate license. Sign up for your pre-licensing course with Colibri Real Estate today.