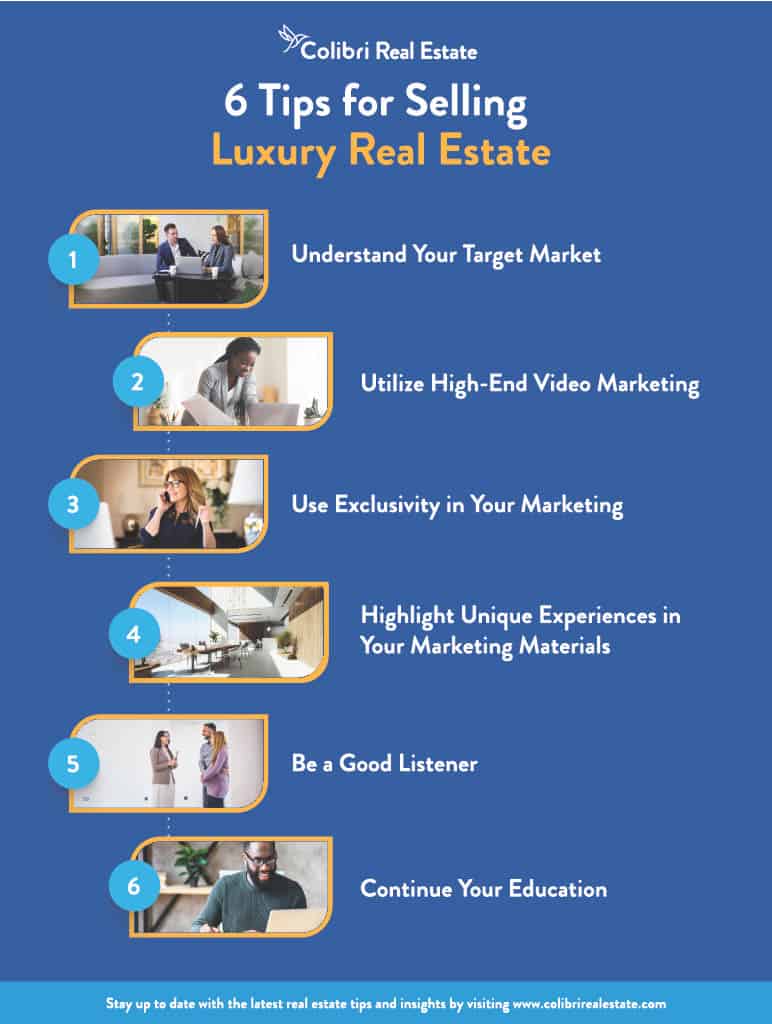 You already know that marketing and selling luxury homes is different than the marketing to sell entry-level homes. But you may need help to pinpoint the differences.
We hope you have already read one of our guides on how to get into luxury real estate, including Guess What U.S. City Has the Most Expensive Real Estate? (Spoiler! It's Manhattan!) Now, let's take a deep dive into the marketing strategies of high-end real estate companies.
6 Tips on How to Sell Luxury Real Estate
The first step of selling anything – from tote bags to racehorses – is understanding the wants and needs of your target market. So, we'll start there – and then give you specific luxury home marketing ideas.
Understand your target market.
Even though your marketing efforts will target the wealthy, younger affluent buyers have different expectations than older wealthy buyers. It's essential that you understand these differences.
Additionally, if you are marketing to international clients, you need to understand cultural differences and accommodate for different languages.
Create a consumer profile to help you understand the expectations of your client. This also enables you to learn what features to highlight when marketing a specific property. Knowing your target market will also help you identify the platforms you'll utilize in your marketing campaign.
In short, your consumer profile should establish the demographics and buyer persona you are targeting for this sale – and the data to support your profile.
Utilize super high-end video marketing.
You can find countless resources claiming to have the best luxury real estate marketing ideas. But, high-quality video is a necessity for luxury real estate advertising. Using your consumer profile, hire a pro to create a series of videos highlighting features that would appeal to your target demographic.
Even before Covid, wealthy buyers relied on video, virtual reality, and augmented reality to tour homes – especially if they relied on staff to handle the details of the deal.
You'll need several short 10 to 20-second cuts and a longer, more detailed piece. Finally, you'll need one to highlight the property's location – perhaps starting with a view from Google Earth.
Some luxury real estate marketing materials also include lifestyle videos, allowing clients to envision what it would feel like to live at this location. These are used in luxury apartment advertising or luxury real estate developments.
Use exclusivity in marketing.
Are you looking for tips on luxury real estate advertising? Don't advertise.
Using exclusivity when marketing a high-end property can be a successful strategy – if done well. And, of course, this strategy is also helpful if your firm has a deep contact list of potential clients who you know would be afraid of missing out on the next big thing.
Highlight unique experiences in luxury real estate marketing materials.
Younger affluent buyers value experiences perhaps as much as amenities. So, if there's a unique experience you can connect with the property, use that as a strategy to attract high-end real estate clients.
For example, the property no longer has an "English country garden." Now, it's a "meditation garden." Using wellness in luxury real estate branding is extremely popular. So, show a model doing yoga in your lifestyle video to help potential clients envision their healthy, new life in their beautiful new space.
Be a good listener.
People who have never worked in sales assume that all salespeople are smooth talkers. However, it's just as important to be a good listener when selling luxury real estate.'
Being a good listener will help you learn exactly what your client wants in a new home. In addition, you may learn ideas on how to market a property that you had never even considered.
Continue your education.
You have to stay current if you wish to advance your career into the luxury market. This includes awareness of current real estate trends – especially in the fast-changing luxury market. But this also includes understanding changes to real estate law – and how these changes might affect your clients.
That's where Colibri Real Estate School can help. Of course, Colibri, formerly Real Estate Express, is known for pre-licensing classes and exam prep materials. However, we also help working real estate agents maintain their licenses by offering engaging, state-approved continuing education courses.
Colibri Real Estate School Will Help You Increase Your Earning Potential
Colibri Real Estate School offers courses in various relevant topics, including marketing with social media, elements of an eco-friendly home, and how to handle multiple offers.
Colibri Real Estate School offers individual courses as well as packages that enable you to purchase all the classes you need to renew your real estate license. And, of course, the materials are in an easy-to-learn format that will make it easy to learn even the most complicated material.
You have depended on Colibri Real Estate School to get started in the real estate industry. Now, rely on Colibri to help you increase your earning potential.