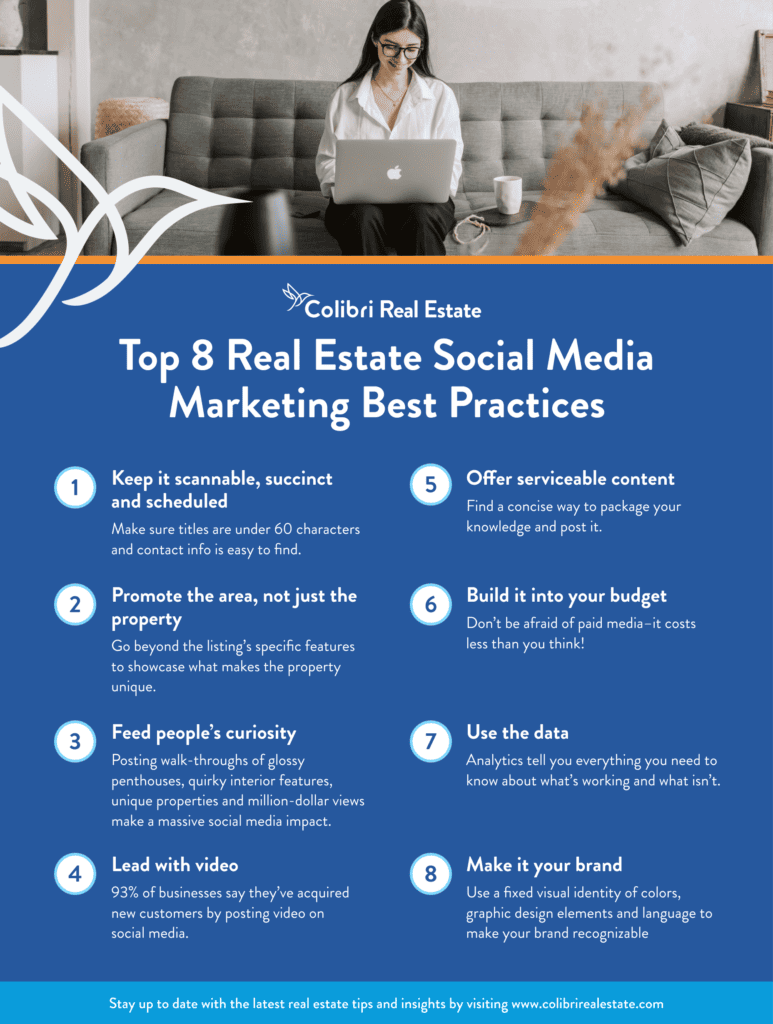 Social media has become an essential part of any modern marketing strategy, especially for businesses in the real estate industry. Every day, potential buyers and tenants are logging onto their favorite platforms looking to discover new properties or get advice from experienced agents. That's why it's so vital that real estate professionals utilize these channels as a way to reach out to their target audience and extend their brand awareness. However, with so many different options available, knowing the best practices for real estate social media marketing can be tricky. In this blog post, we'll explore some key tips on how you can get started with building your presence online through effective use of social media.
Social Media for Real Estate
Real estate agents are living in a world propelled by social media. Whether it's finding and showcasing listings, attracting new clients, or engaging with previous ones – the platforms out there like Twitter, Facebook and Instagram offer real estate agents plenty of opportunity for success. As daunting as navigating the digital space may seem, staying up to date on the latest trends can provide you with an edge over competitors who aren't taking advantage of the full potential of these channels. To help get you started we've compiled this guide to specialized strategies around social media marketing for real estate professionals that will help you stand out among your peers. When it comes to the top social media platforms, we have 8 best practices to live by. 
Keep it scannable, succinct and scheduled
Make sure titles are under 60 characters and contact info is easy to find. Use interactive features to encourage engagement and optimize posting times to best align with your audience. 
Promote the area, not just the property
Go beyond a listing's specific features and use your social media platforms to showcase local small businesses, family-friendly spots and elements that make 
the location unique. 
Feed people's curiosity
The luxury market is blowing up on TikTok thanks to good old-fashioned voyeurism. Brokers who post walk-throughs of glossy penthouses, quirky interior features, unique properties and million-dollar views make a massive social media impact. 
Lead with video
93% of businesses say they've acquired new customers by posting video on social media. It doesn't have to be professionally done and it doesn't have to be time consuming—smartphone quality is just fine. 
Offer serviceable content
Looking to dispel the myth that getting a real estate license is a long and cumbersome process? Want to explain what various real estate terms mean for first-time buyers or sellers? Find a concise way to package your knowledge and post it. 
Build it into your budget
Don't be afraid of paid media—it costs less than you think. Set aside a small amount of weekly funds and watch your reach extend. 
Use the data
Analytics tell you everything you need to know about what's working and what isn't. Keep an eye on the numbers and be ready to pivot with your audience. 
Make it your brand
Make your content instantly identifiable by employing a fixed visual identity of colors, graphic design elements and language. A unified brand means any individual social media notoriety will still be under the umbrella of your brand. 
Social media for real estate professionals doesn't have to be a challenge. Follow these best practices to get started and follow your own intuition about what feels authentic to your business.