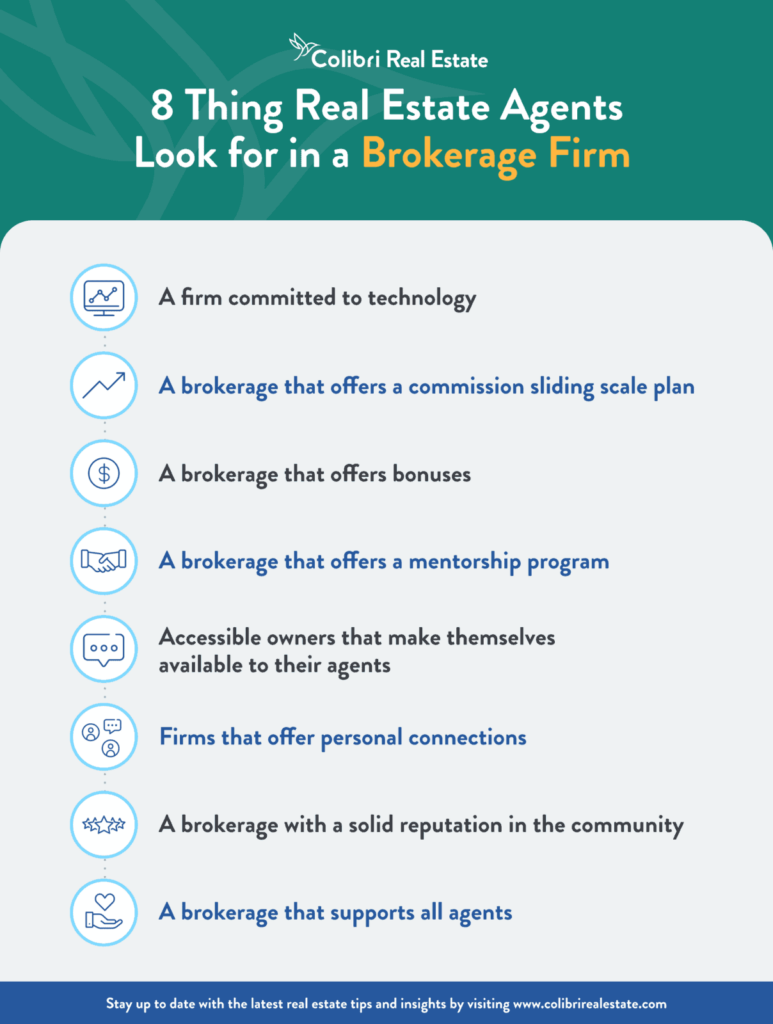 The best way to expand your brokerage is to recruit talented agents who are motivated, loyal, and reliable. However, it may have been a few years since you considered a beginner agent's perspective. What do those new to the industry look for when choosing a real estate brokerage?
While some new agents are drawn to large, prestigious brokerages, others seek boutique firms for more face-to-face time with the managing brokers. However, there are other factors that everyone agrees on what to look for in a managing broker. How do we know? We asked them!
Here's a look at what agent recruits (as well as more experienced agents) look for when deciding on a brokerage firm.
A Firm That Is Committed to Technology
It takes a lot of work to keep up with the new technology being developed for the real estate industry. Most new agents are too overwhelmed to find those tools – and learn how to use them on their own. So, they appreciate a brokerage that keeps them current (and trained) on the best new real estate technology.
"My broker embraces many new forms of technology. One of the agents in my office doubles as our Chief Technology Officer, and we have a weekly call about new tools we can leverage for business. It's very hands-on." – Bill, New Jersey
A Brokerage That Offers a Commission Sliding Scale Plan
You know that beginning agents will need much more of your time and energy and will pay for these resources by sharing their commissions with the firm. However, to retain real estate agents, you must consider decreasing the brokerage's share of commissions when an agent becomes more independent.
"I am not as concerned with my commission split if the money I am paying is taking a lot off my plate. As an agent becomes more seasoned, has their own marketing/brand in place, and requires less support and maintenance, the fees should decrease. Sure, [we're] all concerned about commission, but the correct commission setup is dependent on how much help is needed. I am not afraid to pay into a brokerage because I know that nothing good comes for free." — Desiree, Washington
A Brokerage That Offers Bonuses
Offering additional financial perks will draw agents to your firm – especially those new to the industry. Consider offering signing bonuses and other financial incentives to stand out to new agents who are choosing a real estate brokerage.
"Since commissions are semi-fixed and often hefty, when I was comparing brokerages, things like signing bonuses and marketing bonuses were a way to help firms set themselves apart." — Rebecca, New Jersey
A Brokerage That Offers a Mentorship Program
Some agencies say they support beginning real estate agents. However, that support looks different from firm to firm. Choosing a real estate brokerage with an established mentorship program will be top of mind for new agents.
"Mentorship and handholding at the beginning are a must. Priorities include a resource for ongoing education about forms and legal issues, another set of eyes on my files, tech support, and resources to help with what it takes to run and grow your own business. Marketing and tech are massive." — Desiree, Washington
A Real Estate Brokerage with Accessible Owners
Real estate sales isn't a 9 to 5 job. When problems occur (and they will!), a beginning agent must know that the owner has their back.
"Having an owner who makes themself available to us for issues inside and outside of the office is very important to me because real estate is a constant job." — Bill, New Jersey
A Real Estate Brokerage That Offers Personal Connections
Don't be afraid to show your personality to beginning agents. They're drawn to firms with friendly, open people.
"Make sure you vibe with the principal broker, you'll be relying on them a lot. I was for sure looking to pick an agency that has great support and training for new agents." — Zia, Oregon
A Brokerage with a Solid Reputation in the Community
A new real estate agent doesn't want to fight an uphill battle to land new clients. They'll find it easier to start their career by choosing a real estate brokerage with an excellent reputation from clients and other agents.
"Starting off, I was looking for a brokerage with the best training, best technology, and successful brokers that had been with the brokerage for a long time." — Lexa, New Mexico
A Brokerage That Supports All Agents
Your new agents won't be novices for long. To retain your existing Realtors, foster a culture of loyalty by supporting current agents.
Accelerator By Colibri Real Estate Can Help You Attract Agents to Your Brokerage (And Retain the Good Ones!)
You are already aware of the solid reputation of Colibri Real Estate (formerly Real Estate Express). In fact, we may have helped you earn your real estate salesperson or broker license.
But you may not know that Colibri Real Estate can also help you recruit new salespeople to your firm – and retain those already working for you with our Accelerator program.
We offer three different recruiting packages for brokerages. Learn more about our plans – and how you can provide quality CE courses to your current salespeople by scheduling a call with our team.