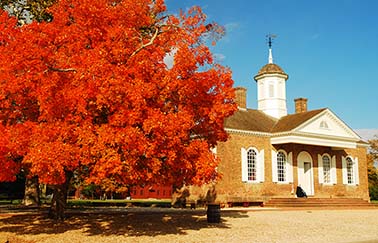 If you want to grow your real estate business in a beautiful state with a vibrant economy and some of the best leaf-peeping in the United States, take a look at Virginia.
Virginia real estate salary: agents earn more
Virginia agents typically make more money than the national average, according to the U.S. Bureau of Labor Statistics. The national mean annual wage for real estate agents is $59,360, while the Virginia mean is $62,910—almost 6 percent more.
The higher earnings are ties, in part, to higher prices of Virginia real estate compared to other places in the United States.
Zillow's Home Value Index says the median home value in the United States is $200,700, while the median price of Virginia homes is $245,000.
Here's another earning boost: Commissions are higher in Virginia than in most areas. UpNest says that buyers agents in most parts of the country earn 2.5 percent in commissions; in Northern Virginia, which contains such affluent areas as McLean, Arlington, and Great Falls, commissions run from 2 to 3 percent.
The real estate future looks good in Virginia
 Zillow says Virginia home values have risen 4.3 percent over the past year and will likely rise 1.3 percent in the next year, good news for new real estate agents who are willing to work hard.
David Sande, a Reston Realtor for 25 years, describes his local real estate market as "good, stable, and steady."
"There are some people who are producing very significant incomes, six figures and above," Sande says. "It's a small group. And they usually have a staff of three to seven people working for them."
Lee Cronin, a Keller Williams agent in McLean, sells 15 to 20 houses a year. The secret to her success? "Prospect, prospect, prospect," she says.
People want to live in Virginia
Real estate agents looking to max out their earnings should work in places where people want to live; here's why people choose Virginia.
When you begin your real estate career, earnings are a big—maybe top—concern. But if you set up shop in Virginia and put in the hours (more than you ever dreamed), sales will happen.
Starting a career in real estate? Browse our blog for tips and tools to help launch your real estate career. Download our free guide: Is a Real Estate Career Right for You?