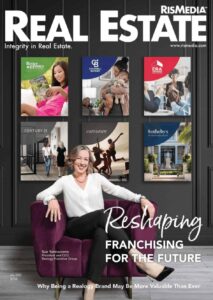 At Colibri Real Estate, we want our customers to have all the resources they need to be successful in real estate. That's why we've teamed up with RISMedia, the leading provider of the most relevant and up-to-date information related to the residential real estate market.
As their Strategic Education Partner, we are able to give our customers free access to the digital edition of the RISMedia monthly magazine.
This real estate magazine is full of thought-provoking and valuable content that prospective and licensed agents of all years of experience can apply to their careers. Here's a brief overview of what you will find in this month's edition.
Cover Story
"Even among the challenges of 2020, the Realogy Franchise Group leveraged its brand powerhouse to grow, launching the Corcoran franchise to great success. Realogy Franchise Group President and CEO Sue Yannaccone says it's the fasted growth of a franchise brand she's ever seen."
This month's cover story features interviews with Yannaccone, who "took the helm as the first female leader of the franchising giant in November 2020," as well as Realogy EVP of Worldwide Sales Rich Green and Reology EVP of Product and Innovation Simon Chen. They discuss topics such as putting the value prop to the test, the advantage of size and scale, the importance of investing in agent and broker success, and evolving for the future.
Read the full article here.
Industry News
"As national vaccinations progress and a return to in-office work sits on the horizon, urban markets may be in for a boom in demand from renters." After a wave of migrations to suburban areas during the pandemic, the recent uptick in rental prices in large metro areas—up 2.7% year-over-year in April, according to a recent report from realtor.com—is a good sign for many urban markets.
In this industry news piece, industry experts provide insights about the state of urban real estate and the rental recovery, particularly in tech hubs like San Francisco and big cities like New York. Ultimately, the article concludes, "The rebound will rely heavily on how companies carry out return-to-office policies in the coming months."
Read the full article here.
Policy News
"With the rise of gig economy workers in many different industries, the ability for workers to be classified as independent contractors has come under increased scrutiny, including for real estate professionals."
This policy news piece, written by Christie DeSanctis, director of Business and Conventional Finance Policy for the National Association of REALTORS (NAR), explains why "NAR has always advocated for the right of real estate salespeople to work as independent contractors and for brokers to choose to classify agents as independent contractors"—and how they continue to do so.
Read the full article here.
Real Estate Tips
"With an optimized website, not only do you make it easier for potential clients to find you, but you also increase the chances of getting—and keeping—their business."
This piece, written by our sister school McKissock Learning, outlines five key website enhancements you can make to improve search engine optimization (SEO) and draw more traffic to your website. It emphasizes the importance of things like making your website mobile-friendly, targeting local keyword phrases, and incorporating client testimonials and reviews.
Read the full article here.
"In our ever-changing industry—with options ranging from full-service brokerages to 100% commission companies—how do you communicate your company's value to attract new agents and retain the ones you have?" asks national real estate coach and creator of the 90-Day Bootcamp, Sherri Johnson. "Whatever your model, you need to be able to monetarily compare and contrast it to those of your competitors in order to show agents why affiliating with you is in their best financial interest."
In this article, Johnson provides expert advice on how to compare your brokerage's model to other companies' models in a way that will help you attract and retain agents.
Read the full article here.