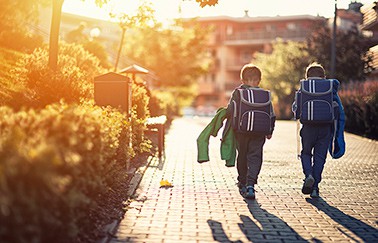 From the serious—paying the price for homes located in top school districts, to the not-so-serious—lessons a real estate agent wishes she could have given her younger self, we've got your weekly real estate wrap-up right here. Also covered are squeezing a small office into any sized home, building with concrete, and dealing with a new real estate bubble. Whatever your plans are for this last official weekend of summer, make sure it includes a bit of real estate news.
Homebuyers Will Pay 49 Percent More for a Home in a Top School District
When it comes to real estate, it's all about location, location, location. It turns out buyers are willing to pay a premium for location when it comes to a highly ranked public school district. Forbes reports that these homes are listed at prices averaging 49 percent higher than other homes—and buyers are paying for them.
Is Concrete the Future of Homebuilding?
Being touted as "the first substantial new technique for building houses since the mid-20th century," building with concrete is thought to be a major improvement on the traditional wood structure. From affordability to durability, read more here on what some of the benefits concrete has over wood.
We're in a New Housing Bubble: Why It's Less Scary This Time
It was about ten years ago that the real estate bubble burst, starting six long years of home values that continued to decrease. Prices have gone up dramatically since 2012, signaling a new housing bubble. Find out why this time around, the housing bubble isn't as alarming.
Dear New Realtor, Here Are the Secrets You Must Know to Make It
Wherever you are in your real estate career, you probably wish you knew then what you know now. One Realtor, 20 years into her career, gives her younger real estate self some secrets to success for making it in the business