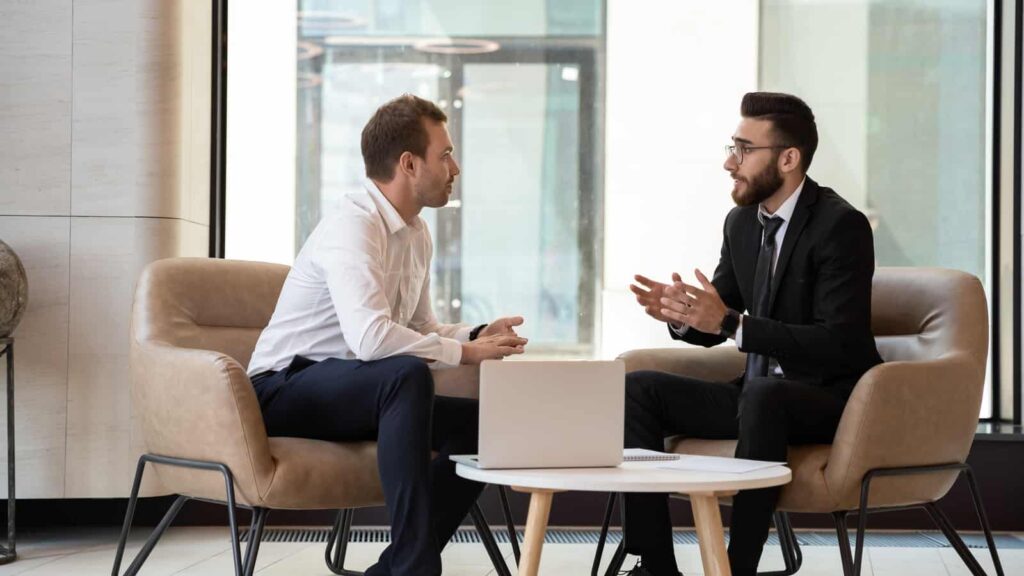 Do you want to have the reputation of being a real estate agent who works hard for their clients? Then make sure you have killer negotiating skills. 
(Don't worry! Like any other skill, negotiation techniques can be learned!)
Before we give you tips on improving your negotiation techniques, take time to complete this visualization exercise. 
View a real estate negotiation like a Venn diagram. (A Venn diagram uses circles to represent the similarities and differences between two concepts.) 
In our example, one circle represents the buyer's best interests, and the other represents the seller's best interests. 
Where the buyer's and seller's interests overlap are the zone of possible agreement – or bargaining zone. A positive bargaining zone exists when the terms the buyer and seller are willing to agree to overlap. A negative bargaining zone exists when there is no overlapping zone. 
Finding a positive bargaining zone is part of the negotiation process. 
With that in your mind, here are some real estate negotiating tips for savvy agents like yourself. 
Understand the climate of the local real estate market.
Knowledge is power in negotiations. But this means you need to do more than simply find comps for the property.
You need to know how long the property has been on the market and the average market time for similar homes. 
Research other similar properties currently on the market – and how this property compares.
You must know about other costs, including property taxes and homeowner association fees. 
And, of course, you must understand the local real estate market. This requires research and study. You need to understand the nuances of each neighborhood – and what's new on the horizon. 
Knowledge will give you confidence when it comes to real estate negotiating. Give it a try!
Practice different scenarios before you negotiate.
Think of all the proposals and objections the other side will likely put forth during negotiations. You've been on the other side of the table before, so it shouldn't be hard to imagine what the buyer or seller will ask for during this process. 
For example, if the buyer is concerned about the roof's age, consider what you will offer to put their minds at ease. Have several alternative solutions in your back pocket.
If the seller doesn't want to come down on price, be willing to walk away. Don't let unrealistic sellers force your clients to concede on an overpriced home. 
Of course, discuss these scenarios with your client before the negotiation process begins so they are comfortable with your strategies.
Learn as much as possible about the buyer's and seller's situations.
The more you know about the other party, the higher your chances of succeeding during the negotiation. 
For example, a buyer may be willing to pay more if their current lease will soon end. A seller might be more inclined to negotiate if there's no one local to oversee the sale. 
Consider the use of an escalation clause.
Many communities are experiencing a seller's market, meaning homes in desirable areas receive many offers. If you represent a buyer in one of these markets, consider an escalation clause to give your client the best chance to win a multiple-offer situation. 
Here's how an escalation clause works: "Sam and Diane Smith' are willing to pay $5,000 more than your highest written offer, but not to exceed $550,000." Of course, the seller must provide the buyer with a copy of the highest written offer for this to work.
Learn the real estate negotiating style of other listing agents.
Over time, you'll get to know your target area's real estate movers and shakers. But until you do, keep notes on each Realtor's working style. For example, do they respond better to calls, texts, or emails? What is their negotiation style?
With that said, experienced real estate agents often like working in person or over the phone because there is a freer flow of information during an in-person conversation instead of a text exchange. 
During a conversation with the seller's agent, you may be more likely to find out the terms the seller needs, such as a fast close or contingency to find a new home. 
Try your hardest to stay calm during negotiations.
We certainly know that this tip is easier said than done. But to improve at the negotiation table, you must learn to keep your poker face—no matter what the other side throws at you.
This may be extremely difficult for some of you. But as a real estate agent, you will encounter bullies who want to intimidate you. Do your hardest not to get rattled by these below-the-belt tactics. 
Be truthful in all of your business dealings. 
Lies will always be discovered. As a local real estate agent, you need to protect your reputation because without it – you're nothing. 
When others know you are an agent with integrity, your real estate negotiating will go much smoother.
Keep learning. 
The best teachers, dentists, welders, and real estate agents keep growing in skill and knowledge. Be the best real estate agent you can be by learning more about real estate law, market cycles and trends, and negotiation strategies. Colibri Real Estate can help.
You may have used Colibri Real Estate (formerly Real Estate Express) to earn your real estate license. But it's important to know that Colibri Real Estate offers helpful resources for every stage of your career.
Are you looking for the best real estate continuing ed courses? Or are you thinking about upgrading your license? Maybe you want to read about real estate trends. Colibri Real Estate can help you with each of these goals. 
Colibri Real Estate and our partners offer CE credits for every state. We can help real estate agents in nine states upgrade their licenses. And you can read about what's new in the real estate community by browsing our Career Hub. 
Visit our website to learn more!