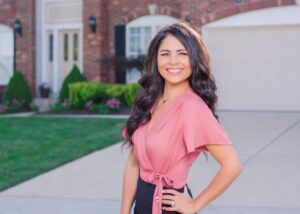 When Janette Avalos De Conte gave birth to her second child, she knew something needed to change if she was going to achieve the family life she had dreamed of. At that time, she had a full-time role as a medical translator, while balancing a second medical translating part-time job and several shifts as a waitress. She needed a career that would provide more stability and flexibility for her children.
On the advice of her brother, while still recovering from childbirth, she took her real estate licensing course with Colibri Real Estate and passed her exam to become a licensed real estate agent.
A year into her real estate career, Janette has blossomed as a business owner and working mom. She just won Rookie of the Year with her brokerage Keller Williams after closing 17 transactions last year, at about $2.5 million each. We recently caught up with her to learn how she launched her career and what advice she has for others who are considering making the move into real estate.
Why did you choose real estate?
Before doing real estate I was a medical interpreter, in Spanish, and I was very involved with the Hispanic community. While talking to them I realized there was a huge need for a Spanish-speaking real estate agent who not only spoke their language but would truly care about them and guide them through the whole process. I made the decision that I wanted to become a real estate agent.
What did your life before working in real estate look like?
I did medical interpreting for six years. I was working as a full-time medical interpreter, I was also working for another company doing medical interpreting, and I was working at a restaurant as a server. When I started I had a baby who was 7 months and a 2-year-old son.
Why did you choose Colibri Real Estate?
I'm a really busy mom with two babies. I had two full-time jobs, essentially, and I had the kids, so I was crazy busy all the time. My brother suggested that with the online classes I could do them on my own time. I didn't have to go to a classroom. I would put the kids to bed, and once everyone was sleeping I would study. It worked out just perfectly.

What has your first year in real estate been like?
I just won Rookie of the Year with Keller Williams. It was an amazing year. I had it in my mind that I was going to do everything in my power to make this career possible. But you also hear people saying real estate is tough, so you don't really know. It has turned out to be amazing.
I was so ready to learn, but I had no clue what I was doing at first. I had a really good mentor who got me through the whole process and taught me everything I know. They were able to guide me through the whole process and show me everything I had to know. The clients were there, and I had the intention of learning.
How has your lifestyle changed?
With my two babies and having a full-time job, nine to five, it's hard getting out, asking for permission, trying to get to different actives for your babies. Now, the biggest blessing is that I can actually manage my own schedule according to my kids' schedule.
Another thing that I really love about real estate is that I like to have jobs where I feel like I'm making a difference. You have to love what you do. Otherwise, even if you make a lot of money, you won't be happy. I love what I do and I feel like I'm helping people. You're helping people with the biggest decision of their life. That gives me a great sense of accomplishment and joy knowing that I'm really doing something for someone else.
It's helped me grow a lot. I'm a business owner now. You have to think and act like a business owner. I've always been a hard-working person, but being in real estate, being a business owner, you just grow so much because you have to learn all of this about becoming a business owner and doing everything that you never thought you would have to do or that would be possible to do.
Also: financial stability for my family. I'm still a working mom, but when I'm with my family I get to enjoy them. I was able to take a really good vacation to Europe. We went to Spain and then France this fall.
Sometimes I ask myself, "Why did it take me so long to make this change?" But I know it's perfect timing for everything.
What advice does she have for others considering a career in real estate?
If you want a profession, a job where you can have unlimited potential, there's no limit on how far you can go in real estate. If you want to pursue more and more, this is the perfect job.
If you are a busy mom or dad and you want quality time with your family and to be in control of your time, then go for it. It's not easy but it's definitely worth it.
As long as you're disciplined enough and have the hunger to succeed and have the work ethic and are honest, you'll always have a job. Clients are always going to look for you.
Remember how important customer service is. Since I started this business, I knew I had to deliver great customer service. People need to trust you. Usually, I really focus on delivering the best customer service I can to all my clients and being transparent from the beginning.
It's a perfect career, perfect opportunity for anybody who is looking for all those things and wants to step out of the box and try something different.
To learn more about Janette Avalos De Conte, visit trustjanette.kwrealty.com or connect with her on Facebook or Twitter (@trustjanette).