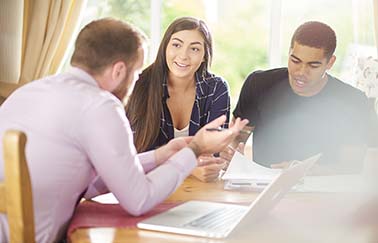 This week's selection of real estate news includes an innovative new rent-to-own program that might prove to be a real boon for those looking to get into the door of homeownership. The fires in southern California continue to rage, putting many homes in the path of destruction. The latest estimates are devastating. In spite of warnings about a flaw in this relatively new currency, a property management company in Brooklyn is now letting tenants pay their rent in bitcoin. As we get closer to 2018, Realtor.com has published its take on the latest trends we might be able to expect. Theft can be a problem during the holiday season, from packages missing off the front porch to burglary of an empty house when homeowners are out of town. Find out what steps you can take to protect yourself.
This week's selection of real estate news includes an innovative rent-to-own program, fires in southern California, using bitcoin to pay the rent, and more.
Innovative rent-to-own program could be the answer to the down payment dilemma
It's no secret that with today's rising rents, those who aren't homeowners and wish to be are struggling to come up with the hefty down payment that is required for home purchases. This program by Home Partners might provide a foot in the door for many renters.
Nearly 90,000 homes at risk in fire-torn SoCal
As devastating fires continue to wreak havoc on Southern California lands, more and more homes are at risk. CoreLogic is reporting that as many as 90,000 houses are at risk, with 16 percent of those in extreme danger.
Now you can pay your rent in bitcoin
Not all property managers are as innovative as this Brooklyn-based company, which is now allowing its tenants to pay their rent in bitcoin. Read on to find out how this will work—and whether it is a trend that will catch on.
These real estate trends will be game-changers in 2018
As 2017 winds down, it's time to take a look at the new year. This article outlines some of the real estate trends we can expect, and some of them may have a tremendous impact on the market.
Season for thieving: 6 tricks to protect your home during the holidays
If a lot of your shopping will be done online this holiday season or if you'll be traveling and away from home, you could be putting yourself at risk of theft. Follow these steps to protect your home and the rest of your belongings.