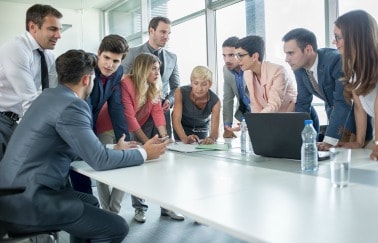 All real estate agents start their career wanting to achieve success, and the vast majority want to do so ethically. This week's news includes an article on how new agents can do that. Even though the Fed has raised interest rates, the cost of mortgages has gone down; we've got an article that examines the reasons behind the trend. The real estate biz has been lagging when it comes to data mining—until HouseCanary came along. We've also got the best tech tools to use for your career this year. And just for fun: Chip and Joanna's "barndominium" and other favorite homes.
FREE GUIDE: Leveraging Changes in the Real Estate Industry
New agents should look for good companies—ethically good real estate companies
The number of new licensed real estate agents is on the rise, and most come into the business with plans to be useful, productive, principled agents. Of course, they also want to enjoy success. Here are some tips for how they can find ethical companies with which to start their path to real estate success.
The Fed raised interest rates. Why are mortgages getting cheaper?
When the Federal Reserve raised interest rates about a month ago, experts predicted a rise in interest rates for homebuyers. But the reality is that mortgage rates have reached their lowest levels this year. What's behind this puzzling trend?
The real estate data revolution takes flight with HouseCanary
The real estate industry has lagged behind even as data mining has meant the transformation of other sectors. A real estate pro partnered with an economist/statistician to change that with the development of HouseCanary. Their hope is that this took will enable real estate agents, lenders, appraisers, investors, and consumers to value properties based on the vast amounts of real estate data they have aggregated and analyzed.
Best technology for real estate professionals in 2017
In today's high-tech landscape, real estate professionals can't afford to lag behind if they wish to stay relevant. Here's a list of some of the latest technology tools you might want to consider using to set yourself apart from the herd.
Chip and Joanna's 'barndominium' is the week's most popular home
If you're a fan of HGTV's popular show Fixer Upper, you might have seen the episode where the auspicious couple turned a horse barn into a lovely home—fondly referred to as the "barndominium." The property has changed hands from its original owner and now serves as a trendy vacation rental. It tops this week's REALTOR.com list of most popular homes.