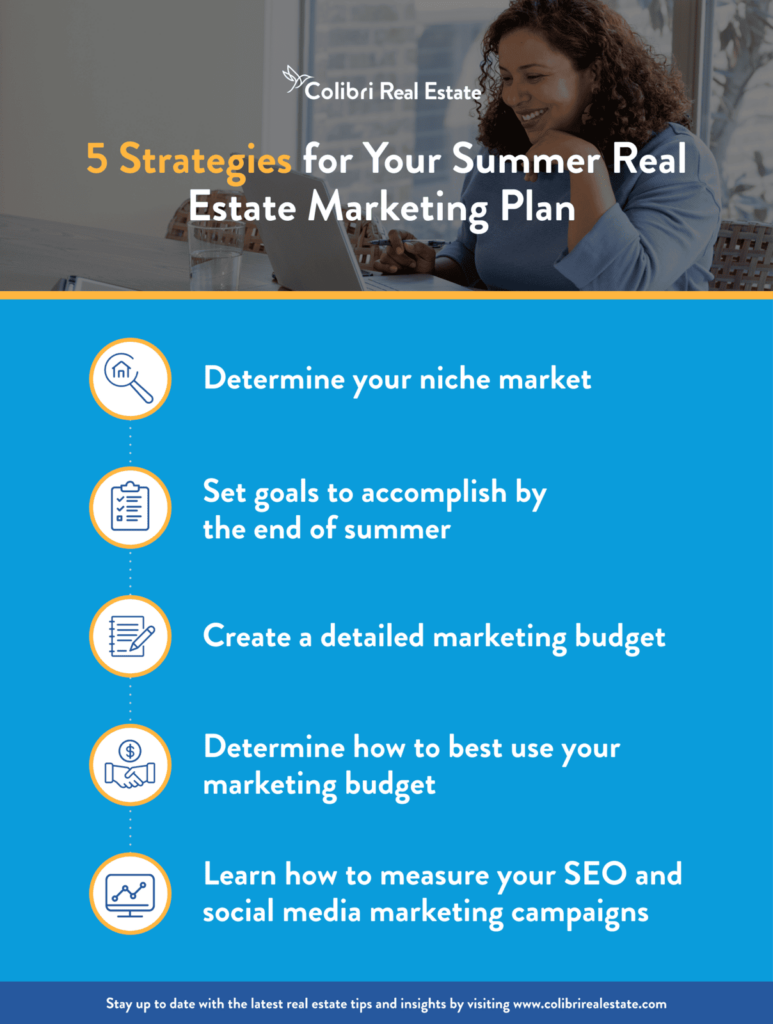 Summertime is here, and with it comes a new quarter. This makes for a perfect time to revisit your business goals and strategies. Here are 5 strategies for your summer real estate marketing plan. We've even thrown in a mistake you'll want to avoid!
How to Update Your Summer Real Estate Marketing Plan
We know that it's sometimes difficult to focus on big-picture items – like marketing your business – when you are bogged down with the details of the job. However, schedule a distraction-free day (or two) to complete these tasks.
Determine your niche market.
Some real estate agents have succeeded by narrowing their focus to a specific property type or client. Before you develop the specifics of your summer real estate marketing plan, consider if this is the right move for you.
Discuss this decision with your brokerage leaders. Perhaps a service gap needs to be filled in your area. Maybe you can base your decision on successes you have had in a specific area.
Then, gather data on your target demographic. Consider their needs and interests – and how you can better connect with future clients.
For example, do you want to narrow your focus to second homes in a woodsy area? Then become the local expert on trails, parks, and outdoor summer fun.
Is your target demographic family homes within a specific school district? Consider ways to help parents on summer road trips or become a resource hub for regional summer camps and child-friendly activities. Also, stay current with the school district happenings.
Whatever your demographic is, think about how you will help them this summer —and beyond. Building connections this way helps grow your business with organic referrals.
Set goals to accomplish by the end of the summer.
The third quarter runs from July 1 to September 30, which includes the dog days of summer. Yes, this is a busy time in our industry, but what will you accomplish this summer to improve your business for the next three months and the next three years? (and more!)
Here are ideas for short and long-term goals.
Add x properties/clients to my niche within three/six/twelve months.
Participate in or sponsor three new local festivals or events that cater to my target market.
Add x social media followers by writing interactive posts and offering helpful niche-focused content.
Enroll in x hours of continuing education courses focusing on my niche or marketing strategies.
Write down your measurable goals – and keep a copy of them nearby.
Create a detailed marketing budget.
Utilize all of the resources offered by your brokerage. Then, determine how much you can afford to set aside for your marketing budget.
Not setting aside some money for marketing will doom your plan before you get started. Even marketing strategies sometimes considered free – such as social media and SEO marketing – have costs.
Determine how to best use your marketing budget.
Review your short and long-term goals and what you know about your target demographic. Then, consider the best way to spend your money to help you meet those goals.
Here are some examples of how you might want to spend your money.
Sponsor summer festivals, parades, or community events. This could include providing raffle prizes or setting up a booth at local events.
Buy social media ads.
Hire a writer to add helpful content to your website and social media channels.
Learn how to measure your SEO and social media marketing campaigns.
Don't neglect to measure your real estate marketing.
To know how impactful your efforts are over the summer, you'll have to commit to measuring them throughout the summer and at the end of the quarter. You won't want to continue the same strategies in the fourth quarter if they don't work in the third quarter.
Measure how much money you spent on each specific strategy. Ask new clients how they found you so you can determine how much each client costs.
Read your social media and website analytics. Look at page views, time spent on the page, engagement on social media, and, most importantly, how many clients you were able to convert from these efforts. Of course, lead generation is your ultimate metric.
Avoid distractions or negative self-talk.
Stick with your plan. Don't let summer vacations and warm weather distract you from your goals. Following through with your real estate marketing plan will give you something to build on during slower times of the year.
Not all of your real estate marketing strategies will be fruitful. Some require patience. You'll never know if your ideas are worth repeating unless you start now and see how they work.
Colibri Real Estate Will Help You Grow Your Career
Take time to explore the Colibri Real Estate Career Hub. We offer a wide range of resources – some that will teach you about real estate marketing strategies.
Also, explore Colibri Real Estate's continuing education options. Our courses will not only go toward your real estate license renewal, but they will also keep you updated on what's new in our industry.
Colibri Real Estate has helped millions earn their state-specific real estate sales license. We can also help you grow your career.