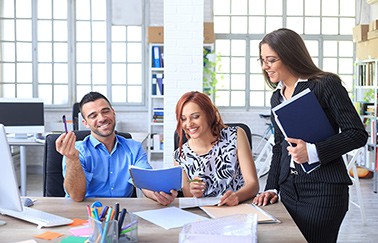 What are the most important characteristics of real estate agents? Whether it's their desire to help people or their personal drive and ambition, a handful of qualities often distinguish the great agents from the good ones. If you're thinking about starting a real estate career, ask yourself if you share the following five key characteristics of real estate agents.
#1: A desire to help people
Real estate agents are in a service profession. Their job centers on helping other people, whether they're explaining the home-buying process, staging a home for a showing, or introducing a new family to the community. Without a desire to help people, agents can easily burn out from the constant demands on their time. However, for those who have that desire, little is more rewarding than helping people navigate one of the biggest financial decisions of their lifetime.
#2: Enthusiasm for real estate
Real estate is a complex business. It's more than just enjoying HGTV and touring homes. It requires a knowledge of the local community, real estate trends and data, and sales and negotiation. The most successful agents love the entire business of real estate. One of the most important qualities of a real estate agent is having enthusiasm for the process, it will feed your clients' excitement—and their trust in you. Therefore enthusiasm is one of the most important characteristics of real estate agents.
#3: Energy and drive
To accomplish everything that has to get done, every day, takes loads of energy and drive. And organization! A typical day can involve meeting buyers, doing a listing presentation, putting up signage, showing homes, writing contracts, negotiating offers, attending meetings, keeping up with continuing education</continuing-education/a>, and even moving the kitty litter box so it's out of sight for listing pictures.
Your drive and ambition, and probably your sense of humor, will keep you motivated throughout the week. Your clients will note your energy and drive, just as they'll appreciate your enthusiasm for the business.
#4: A winning personality
Most people expect their agent to have an outgoing personality. Do you have to be super-extroverted to be an agent? Not necessarily. However, one of the top characteristics of real estate agents is a winning personality—a personality that's pleasurable to be around.
Clients are looking for a real estate agent who they feel comfortable with, one who has traits that gel with their own. A personality that works for one client may not work for another. But in general it's important to be likable, friendly, and unafraid of putting yourself out there.
#5: Strong business acumen
To help your clients, you not only have to understand complex transactions yourself, but you also have to be able to explain them to your clients. What's more, as a real estate agent, you're running your own small business. Do you have the business sense to handle marketing, administrative work, sales, and accounting? Successful real estate agents generally have strong business backgrounds or make an effort to study and learn best practices. That's why business acumen is one of the most important characteristics of real estate agents.