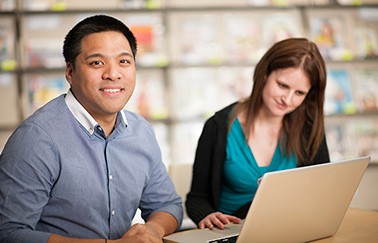 Many states have reciprocal arrangements for granting licenses to real estate licensees from other states. This is important for real estate agents who live or work near bordering states. Real estate license reciprocity agreements vary widely from state to state. Some have agreements with all other states, while others have agreements with only one or two bordering states.
Real estate marketing across states
Today's technology allows real estate agents to promote themselves and their properties worldwide. It stands to reason that you would use that technology to expand your real estate career. Real estate reciprocity can offer a way to grow your career to new heights by opening the door to a real estate career in another state, without having to repeat the complete real estate license coursework. Simply pass the test offered on that state's real estate laws and start closing deals.
Are you ready to explore getting your real estate license in multiple states? Visit our real estate licensing page to find real estate reciprocity requirements for your state.
What is a real estate license reciprocity?
Real estate license reciprocity, sometimes known as 'mutual recognition' is an agreement between states that allows you to get a license in another state in most cases simply by taking the reciprocal state's exam. As long as you hold a valid real estate license in your current state, you might just be a few questions away from a second real estate license.
States that have real estate reciprocity agreements
There are some states that have real estate markets that cross over each into other and offer real estate license reciprocity. New York and Pennsylvania have reciprocal agreements with each other as well as with Connecticut. With New York and Pennsylvania sharing 300 miles of bordering land, real estate agents can be licensed in both states, creating a whole new market for themselves.
Florida offers real estate reciprocity, known as "mutual recognition agreements' with eight states: Alabama, Arkansas, Connecticut, Georgia, Illinois, Mississippi, Nebraska and Rhode Island. Florida does not require you to take the entire state exam, just a 40-question test regarding Florida real estate law. Upon passing the test, you can earn your Florida real estate license and expand your territory.
Connecticut is also one of the nine states that has reciprocity agreements, or a mutual agreement with Florida. With the market of people living in Connecticut who will sell their home to purchase a home in Florida to retire in, the income potential is tremendous. There is no reason to forfeit the commission on the Florida home your clients purchase. Simply take the short exam on Florida real estate law and you can work with your clients on both homes and potentially double your commission.
If you are a broker, there is another opportunity. The Florida State broker's license courses are online, and as long as you have held a license in any state at all for a minimum of two years, you can become a Florida real estate broker.
To learn about your state's real estate reciprocity agreements, we recommend you contact the state directly so you understand the most current agreements and education requirements.
Have you been thinking about a career in real estate? Download our free guide: Is a Real Estate Career Right for You?