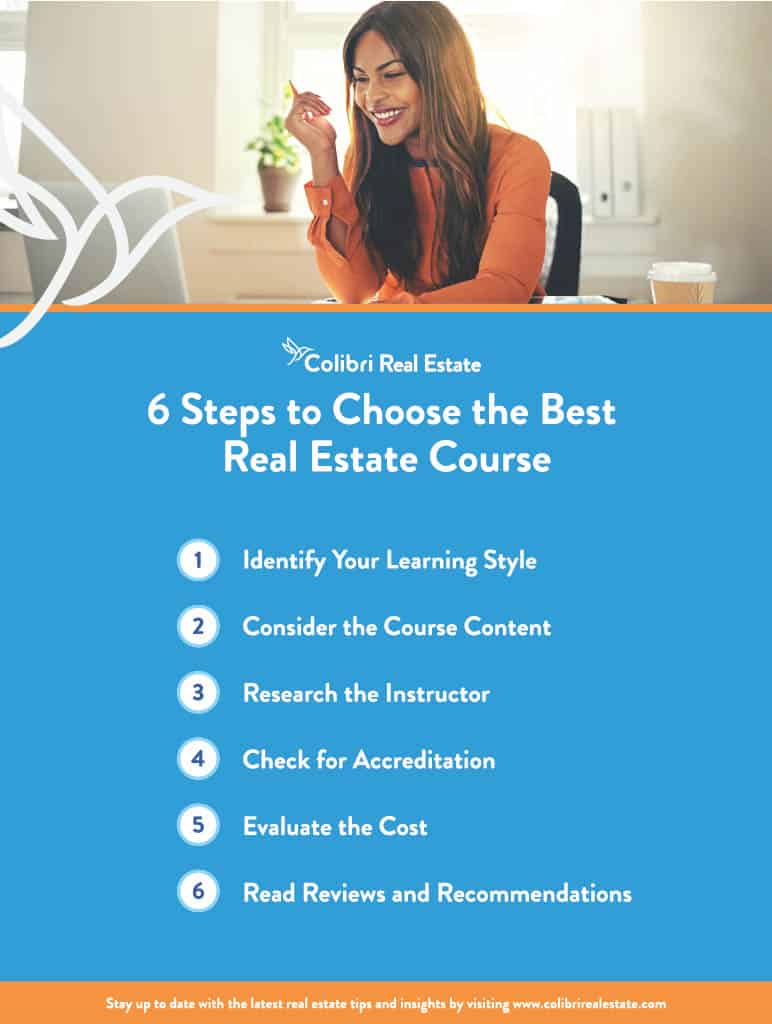 Aspiring real estate agents take note: passing the licensing exam is just the beginning. To truly succeed in this industry, constant education and professional development are necessary to stay on top of trends and best practices. But with so many courses and programs to choose from, how do you know which ones are right for you? We've got you covered. In this blog post, we'll walk you through how to choose the best real estate course to advance your skills, expand your knowledge, and achieve your career goals.
6 Steps to Choose the Best Real Estate Course
Step 1: Identify Your Learning Style
Your first task is to determine how you learn best. Do you prefer in-person classes or online learning? Do you like interactive activities or self-paced study? Knowing your learning preferences will help you narrow down your options and select a course that suits your needs.
Step 2: Consider the Course Content
It's important to choose courses that cover topics relevant to the career skills you want to acquire or improve upon. Look for courses that cover industry trends, laws, regulations, and practical skills like negotiation and marketing.
Step 3: Research the Instructor
The instructor can make a significant difference in the quality of your learning experience. Look for instructors with real-world experience in the real estate field and a successful teaching track record. Check reviews from past students to get an idea of the effectiveness of their teaching style.
Step 4: Check for Accreditation
To set yourself apart from other candidates when applying for jobs or promotions, make sure to choose courses that are accredited by industry organizations and employers. Look for programs that have accreditation from the National Association of Realtors (NAR) or local licensing boards.
Step 5: Evaluate the Cost
While it's tempting to select the cheapest course, don't forget to evaluate the overall value relative to the cost. Look at the quality of the content, instructor, and accreditation to determine if the course is truly worth it.
Step 6: Read Reviews and Recommendations
Lastly, check out reviews and recommendations from students and real estate professionals. This can help give you a well-rounded perspective on the course and how it can benefit your career.
Get Started Today with Colibri Real Estate
Ready to get started? Colibri Real Estate is the top choice for industry education. Our expert-led content and curriculum, custom education solutions, and innovative online learning options make us the leading education company for real estate professionals. Plus, we offer the first widely available livestream learning courses, so you can get your education without leaving your home. Contact us today to start advancing your career!