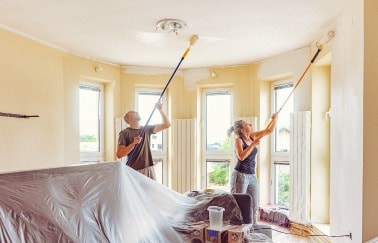 This week in top real estate news is led by a story about how house flippers pull back because higher home prices have hurt their bottom line. First, it was Harvey, and then it was Irma. What kind of impact will these massive storms have on homeowners—and the mortgage industry. Some homeowners haven't recovered from the Great Recession of 2007 to 2009. Is there another crash on the horizon? There's good news for minorities: Incomes are up, which means more will be able to qualify for mortgages. Finally, if you're interested in a career in real estate, find out what Instagram accounts you should be following to help further your career.
House flippers pull back because of high home prices
Chip and Joanna Gaines's popularity notwithstanding, flippers have seen a decrease in their profits for three consecutive quarters. Experts reason that because it's so expensive to buy-in these days, the profit margin is shrinking. What does this mean for the future of house flipping?
Harvey's hit to mortgages could be four times worse than predicted—and then there's Irma
As if Hurricane Harvey wasn't enough of a hit for mortgage holders, Irma might mean four times as many homeowners will be affected by weather in the southeast. What kind of residual effect will it have on the mortgage industry if high numbers of borrowers default?
What will the housing market look like in the next recession?
Although the economy has continued to be strong since the housing crisis of 2008, as the saying goes, what goes up must come down. Some homeowners are concerned that there could be a repeat of the Great Recession.
Increase in minority income pushes homeownership rate higher
As it becomes more and more difficult to become a homeowner, there is good news for one demographic: Increased income means that more minorities can qualify for a home loan.
Follow these 17 best Instagram accounts for real estate
As the saying goes, a picture says a thousand words. And this is one of the things that makes Instagram such a useful social media platform for real estate agents. Most real estate agents not yet using this tool to market their listings. These Instagram accounts will show you how it's done.