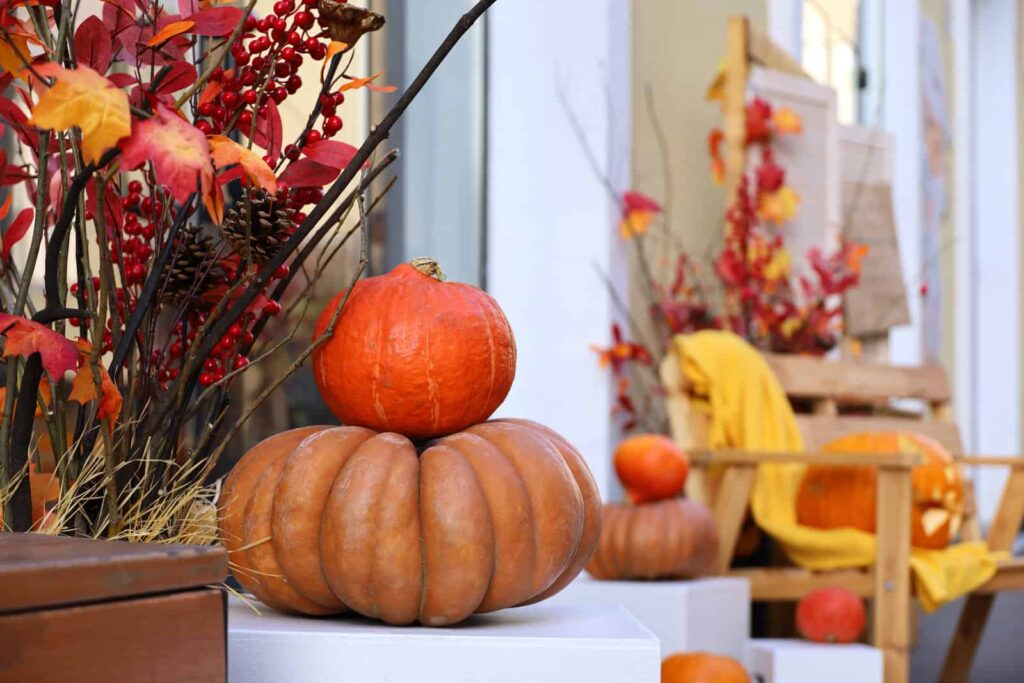 Since fall is traditionally not peak season for real estate sales, you need to do all you can to make the house you are selling stand out from the rest. Here are some fall staging tips to help buyers envision the home as the perfect nesting ground.
Here are some staging tips for fall to share with your clients who are selling their homes during autumn. 
Selling Your Home During the Fall
Autumn is a tricky time for home sales – especially if you live in an area appealing to people with kids. (Most parents want to avoid changing schools once classes have begun.) And no one wants to move during the winter holidays.
Here are some of our top staging tips for the fall season to help your house sell.
Tip #1: Take outdoor listing photos when your house looks best.
If you know you will be selling your home during the fall, have a strategy session with your listing agent to determine the best time of year to take outdoor photos.
Do your perennials and grass look the best during the spring? Maybe you are selling a mountain home and want to show off how your house looks under a layer of pristine snow. Or you may wish to include photos on your listing that depict your home in all four seasons. 
Consider investing in professional pics for indoor and outdoor shots regardless of when your house looks its best. The outdoor photos of your home may determine if a buyer pauses at your listing or keeps swiping. 
Tip #2: Avoid using seasonal interior or exterior decorations in the listing photographs if it may take time for your house to sell.
A buyer looking at your home in November may think your house has been on the market for months if there's a 4th of July bunting hanging on the porch in the photographs. 
And even though it's currently fall, your mantle covered with pumpkins and gourds may raise red flags if someone looks at your for-sale photographs in February.
Tip #3: Once the photographs are taken, embrace autumn decor for your showings.
Decorate for fall showings. Think pumpkins, luxurious throws, and velvet pillows – but don't overdo it. Scent your house with cider and cinnamon. You might want to avoid using scary Halloween decor.
The point of staging is to help buyers envision themselves and their families enjoying the home throughout the year – including autumn.
Tip #4: Make your fall maintenance look effortless.
We all know that home maintenance during the fall can be a real pain. Raking leaves and cleaning gutters takes a lot of time. Do your best to stay on top of those tasks before each showing. You want your potential buyers to think, "Wow, I love this home's beautiful trees!" instead of, "I don't want to clean up this tree's mess every fall!"
Tip #5: Remove summer clutter.
Your real estate agent will advise you to rid your home of clutter, which may be difficult if you plan to live there until it sells.
If you are putting your home on the market during the fall, consider packing up your summer clothes, kayaks, and decor and storing these items.
Pair down on the items that are left. Home buyers want big, roomy closets and think they will be much more organized in their new home because it has ample storage. 
Tip #6: Make sure your home has adequate, comfortable lighting.
As the days get shorter, you must rely more on artificial lighting. Ensure your home has adequate floor and table lamps, as overhead lighting can sometimes be harsh. A well-lit home is more welcoming and appears larger. Use natural light when it is available, but plan for showings on cloudy days and nights.
Tip #7: Scrub, scour, wipe, and shine.
You get the point. Make sure that every surface of your home shines for your staging photos and showings. This may be tricky, as people will be tracking through your house for showings, leaving fingerprints and debris behind.
You may want to hire a housecleaner to help prepare for the sale – and one to do touch-up work as needed. 
Tip #8: Make sure your home is at a comfortable temperature.
A chilly home isn't a comfortable home. And if the house is cold, buyers may wonder if something is wrong with the furnace. Put your potential buyers' minds at ease by ensuring the temperature and air quality are perfect.
Are you looking for more tips to give to your clients? Spend time in Colibri Real Estate's Career Hub. Of course, we offer advice on licensing and real estate education – because that's what we do. But we also want to help you be the best real estate agent possible, so we offer practical advice to increase your earning potential.
Colibri Real Estate is there for you throughout your career. Is it time to earn your broker license? Learn how Colibri Real Estate can help!