Our partnership: Colibri Real Estate and Buffini & Company
For additional support as you embark on a new real estate career, Colibri Real Estate is partners with North America's largest training and coaching business, Buffini & Company. As a new professional navigating the real estate space, take advantage of relevant tools, insights, and content from Buffini & Company. Leverage this resource as you move through licensure education, then use it to take flight in the industry. Join 3 million other professionals who found real estate success with our valued partner
Get your license: Together, we can help
This supplemental coaching resource is included in all of our pre-licensing packages. Colibri Real Estate students have exclusive access to comprehensive career coaching videos, curated and presented by Buffini & Company founder, Brian Buffini. In these short videos, get relevant, real-world examples of what it takes to succeed as a real estate agent, including ways to maximize productivity and profitability once you're officially in the market.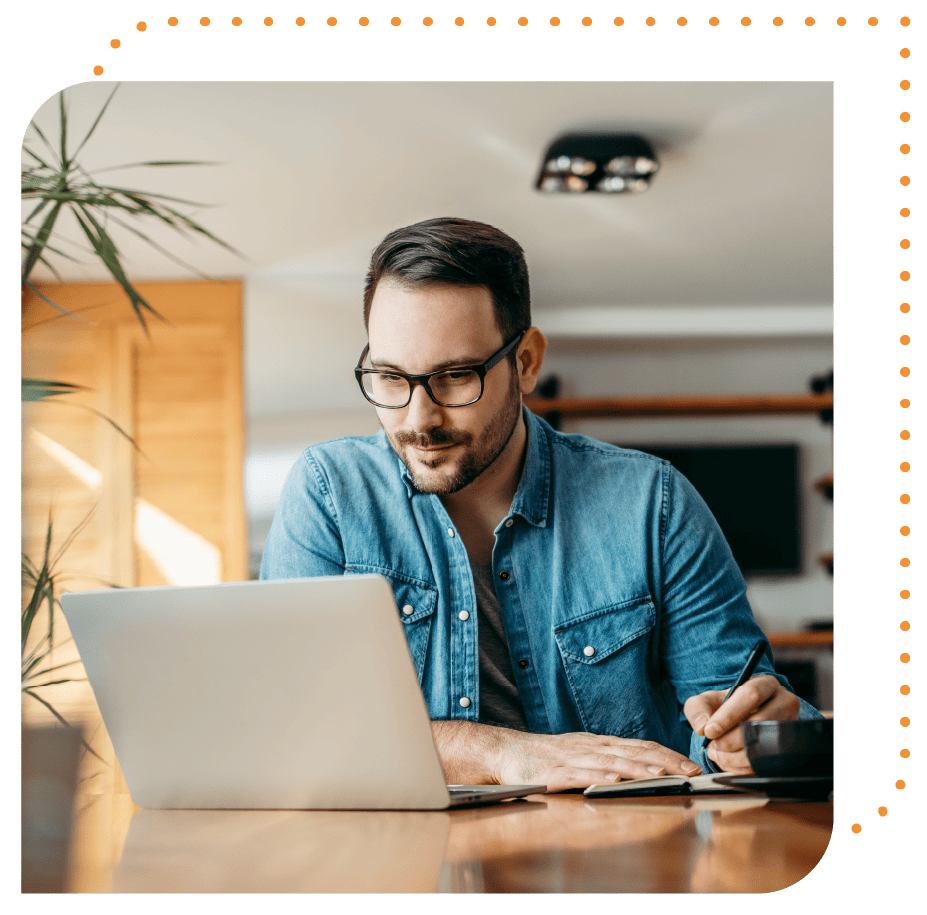 Free Webinar
How to Own the Real Estate Market in 2023: Learn From Stars in the Industry
Though the 2023 real estate market is poised to be slightly unpredictable, this expert panel discusses why it's still a new agent's time to shine. Watch executive leaders from two leading real estate companies explain why now is a great time to get into Real Estate and strategies for early career success. Also, hear from new real estate agents who found immediate success in the market – and how you can, too.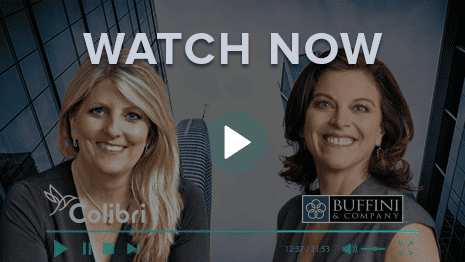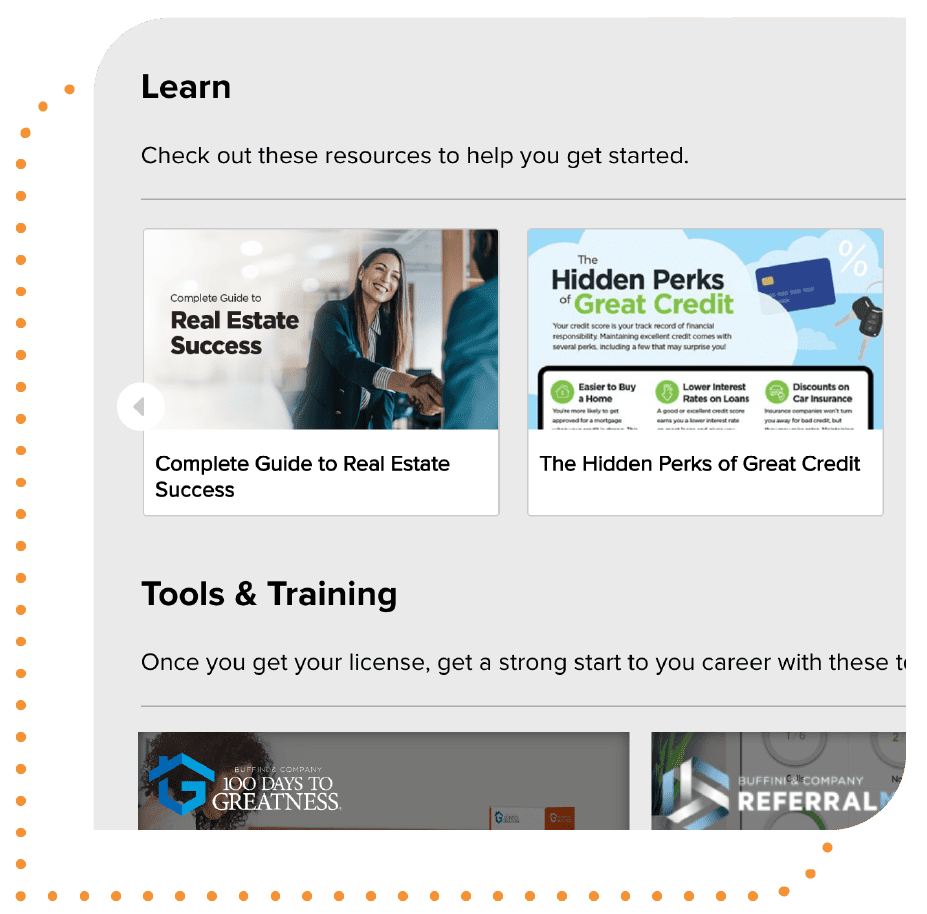 Benefits for our students
As a real estate student with us, you'll not only receive supplemental real estate coaching videos from Buffini & Company; you can also enjoy exclusive career resources like their Agent Starter Kit & Guide to Success. Use this kit, packed with content and expert insights, to hit the ground running in real estate. Plus, we provide professional development resources for current and seasoned agents, like a "100 Days to Greatness" course and a free business consultation. With these, expand your footprint and your influence in the market.
What's included in the Agent Starter Kit & Guide to Success:
Free career guides
Explore eight free downloadable e-books, each covering a different real estate career topic. Enjoy digital guides like "Complete Guide to Real Estate Success" and "How to Handle Your First Commission Check."
Real estate coaching videos
To achieve client trust and success right out of the gates, explore these short training videos that provide market knowledge, unique insights, and valuable training tools.
"It's a Good Life" audio recordings
These audio recordings — hosted by founder of Buffini & Company, Brian Buffini — cover various career and life topics. Some include "The Magic of Owning a Home" and "The Power of Persuasion."
Here's what current agents can expect from Buffini & Company:
As we support the growth of your career through continuing education at Colibri Real Estate, our partnership with Buffini & Company works with us to move the success needle. Here are a few benefits for current real estate professionals:
"100 Days to Greatness" real estate course
This intensive 100-day course helps agents navigate the real estate industry. Enjoy videos and course content, including livestream classes, that cover topics like building a profitable client database, closing deals, and successful financial strategies. (Did you know? As a direct result of this course, agents average seven transactions and $75,500 in income!)
Free business consultation
To maximize your current earnings and reach new success levels, Buffini & Company offers a free business consultation where agents can speak with experts about coaching and business strategies. Through this consult, you'll learn how to grow your network, land more referred leads, close more sales, earn more money, and enjoy more time off.
About Brian Buffini
Brian Buffini is the founder and chairman of Buffini & Company, the largest training and coaching company in North America. Since 1996, the California-based business has trained more than 3 million business professionals in 45 countries and coached more than 25,000 business professionals.
Born and raised in Dublin, Ireland, Brian emigrated to San Diego in 1986 and, within a decade, became one of the nation's top-producing real estate agents. He founded Buffini & Company in the mid-'90s to share his powerful lead-generation systems with others.
Brian is also a best-selling author — as hailed by "The New York Times," Amazon, and "The Wall Street Journal" — with his book, "The Emigrant Edge." In 2022, Brian rebranded his former podcast, "The Brian Buffini Show" by updating its insights and name to "It's a Good Life." In recent years, Brian was inducted into the RISMedia Real Estate Newsmakers Hall of Fame and was recognized in the Swanepoel Power 200.
Brian and his wife, Beverly (co-founder of Buffini & Company) have six children and reside in Southern California.