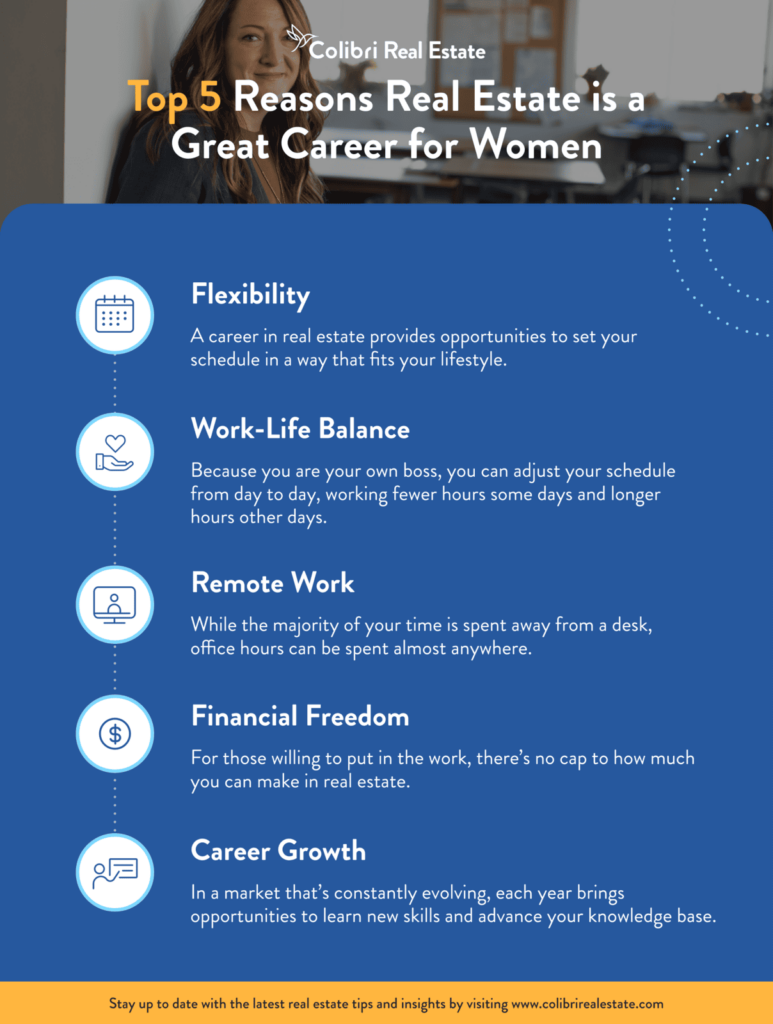 Share this Image On Your Site
Real estate is a great career option, especially for women. In fact, today's real estate industry is dominated by women – and for good reason. This profession gives you the flexibility to be your own boss, set your own hours and reap the benefits of your hard work. For women with multiple competing priorities, considering a career as an agent can offer great benefits.
In a recent interview with Jennifer Dixson Hoff and Tina Lapp, two leading ladies from Colibri Real Estate, we asked them why real estate would make a great career for women, especially moms. Below are the top five reasons they believe it's a great fit. Also, check out their video to hear how they've found success in their careers as working women and mothers.
Flexibility
Don't get us wrong, real estate requires a lot of organization and time management. It can be a demanding career, but an equally rewarding one too. More importantly, it provides opportunities to set your schedule in a way that fits your lifestyle. If you have active children, you can easily adjust your schedule to attend their events. Or if you want to cut out early on a Friday afternoon, you can. Real estate gives you the option of being your own boss and setting your own hours. This flexibility also allows you to participate in your local community. You can carve out time to volunteer, join a board, or attend community events – all of which leads to better exposure that will help your business grow!
Work-Life Balance
Because real estate doesn't require you to sit at a cubicle or desk from 9 to 5, you're able to focus on the meaningful things in life. As your own boss, you can adjust your schedule from day to day, potentially working only a few hours some days while putting in longer hours on other days. The choice is up to you – just know that it takes discipline and hard work to find the right balance of work and play.
Remote Work
Real estate agents excelled at remote work long before the pandemic hit. While the majority of this career is spent away from a desk, there are still office hours that exist in the profession. Luckily, those hours can be spent almost anywhere. And, when you're done with your work you don't have to be stuck at a desk counting down the hours until you can leave.
Financial Freedom
Income potential is a major factor when considering a profession. Fortunately for those willing to put in the work, there's no cap to how much you can make in real estate. Growth in the profession is only limited by the amount of effort and commitment you're willing to give.
It's important to remember success in real estate doesn't happen overnight. It takes time to develop the right skills and abilities to become effective. However, by setting clear goals for yourself and planning ahead, real estate can offer the financial freedom we all seek.
Career Growth
An attractive aspect of real estate for women is the opportunity to constantly learn new skills and advance their knowledge base. This is especially beneficial for women who like to set goals and work hard to reach them. In a market that's constantly evolving, each year brings new challenges and opportunities. There are always different aspects of the business to learn. Through continuing education and industry trends, women who push themselves will see tremendous success.
Considering a Career in Real Estate?
If you've considered a new career in real estate, look no further. Colibri Real Estate has helped hundreds of aspiring real estate agents throughout the country. Get started with online real estate classes to prepare you for your license exams. Courses are perfect for moms who need flexible schedules, so get started today!