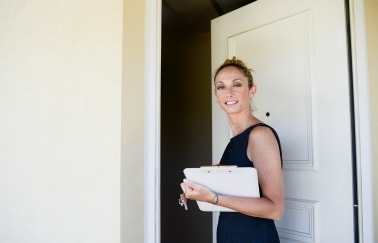 We've got a range of real estate news this week, from the serious—what two weeks of the year do homes sell best?—to the not-so-serious—your worst real estate agent fears recognized. The in-between covers borrowers rushing to lenders before interest rates go up, smartphones taking amazing pictures and videos if you know what features to use, and organizing tips for your home office. Happy reading!
Homes sell fastest during these two weeks
Do you have sellers on the fence about when they will pull the trigger and list their home this spring? Sure, it's a seller's market these days. But you might want to tell them about the two-week period during which homes sell the fastest—and at a $1,500 premium.
FREE DOWNLOAD: Learn how to gain a competitive advantage (and increase your income) in our career guide.
Borrowers rush to beat rising rates, pushing mortgage volume 3.3% higher
The race is on to grab their share of the American dream as borrowers apply for home loans before affordability becomes even lower. Volume is up for both first-time homebuyers as well as those trying to refinance before rates go up.
Useful smartphone features for taking outstanding photos of homes
Real estate agents know that good pictures are critical when it comes to getting potential buyers into a home they have listed. Although many have turned to professionals for amazing interior and exterior shots, your smartphone might be able to handle the heavy lifting. Are you using the latest features on your phone to shoot great photos and videos?
21 ideas for organizing your home office
If you are like most real estate agents, you work at least part of the time out of your home office. If you're short on space, Real Simple is big on ideas for taking even the tiniest nook in your home and turning it into a functional are for you to work.
7 real estate agent fears you might know all too well
If you've ever dreamed of hordes of people coming to your open house but had a deep-seated fear that not even the neighbors would show up, you'll be able to relate to this presentation from the folks at the Lighter Side of Real Estate. From showings to closings, they've got all of your worst nightmares covered.