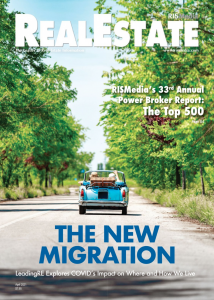 At Colibri Real Estate, we want our students to have all the resources they need to be successful in real estate. That's why we've teamed up with RISMedia, the leading provider of the most relevant and up-to-date information related to the residential real estate market.
As their Strategic Education Partner, we are able to give our customers free access to the digital edition of the RISMedia monthly magazine.
This real estate magazine is full of thought-provoking and valuable content that prospective and licensed agents of all years of experience can apply to their careers. Here's a brief overview of what you will find in this month's edition.
Cover Story
The COVID-19 pandemic has affected our lives in many different ways and presented many challenges over the past year, but it "also triggered new possibilities, including a wholesale rethinking of where and how we choose to live," writes Maria Patterson, RISMedia's executive editor.
"Now free from long commutes or steep urban-area housing costs, homeowners are on the move—to areas where they can enjoy more space, be closer to family or cultivate a more fulfilling lifestyle," says Patterson. "No one has better evidence of this migratory trend than LeadingRE."
In this cover story, Patterson interviews top executives at LeadingRE about the moving and relocation trends of 2020 and the various ways in which people are "rethinking home" due to COVID-19.
Read the full article here.
Free Guide: Learn how to increase your earning potential in real estate with this free Real Estate Income Guide.
Industry News
"Two elements have created the perfect storm for increasingly high home prices: strong demand in the housing market and low mortgage interest rates. According to Zillow's latest market report, January matched recent record highs for home value appreciation, and annual growth is higher than any time since 2006."
In this column, you'll find a helpful summary of housing market statistics and insights from the Zillow Home Value Index.
Read the full article here.
Policy News
"Copyright law protects creative works from unauthorized use and, in the real estate industry, copyright issues often arise in connection with listing photographs," writes Nia Duggins, NAR senior policy representative on business issues. "Improper use of listing photographs can create copyright infringement liability for agents, brokerages and MLSs."
In this policy piece, Duggins identifies four specific actions real estate professionals can take to reduce the risk of potential copyright infringement.
Read the full article here.
Real Estate Tips
"Unfortunately, some brokerages are still stuck in the 'good old days,' with systems, processes and marketing that haven't changed much over the decades. If you want to be more effective in earning clients, recruiting agents and growing profits, it's time to bring your real estate brokerage into the 21st century."
This piece outlines five tips to help you effectively brand your brokerage, adopt new technology, utilize content marketing, and more.
Read the full article here.
"Adding a face and a voice to a message makes it exponentially more impactful than relying on words alone," says national real estate coach and creator of the 90-Day Bootcamp, Sherri Johnson. "This is meaningful to real estate because, as part of your prospecting and client marketing efforts, you should be incorporating video communications to make yourself more memorable and maximize client acquisition and conversion."
In this article, Johnson lays out three guidelines for incorporating video into your real estate business.
Read the full article here.