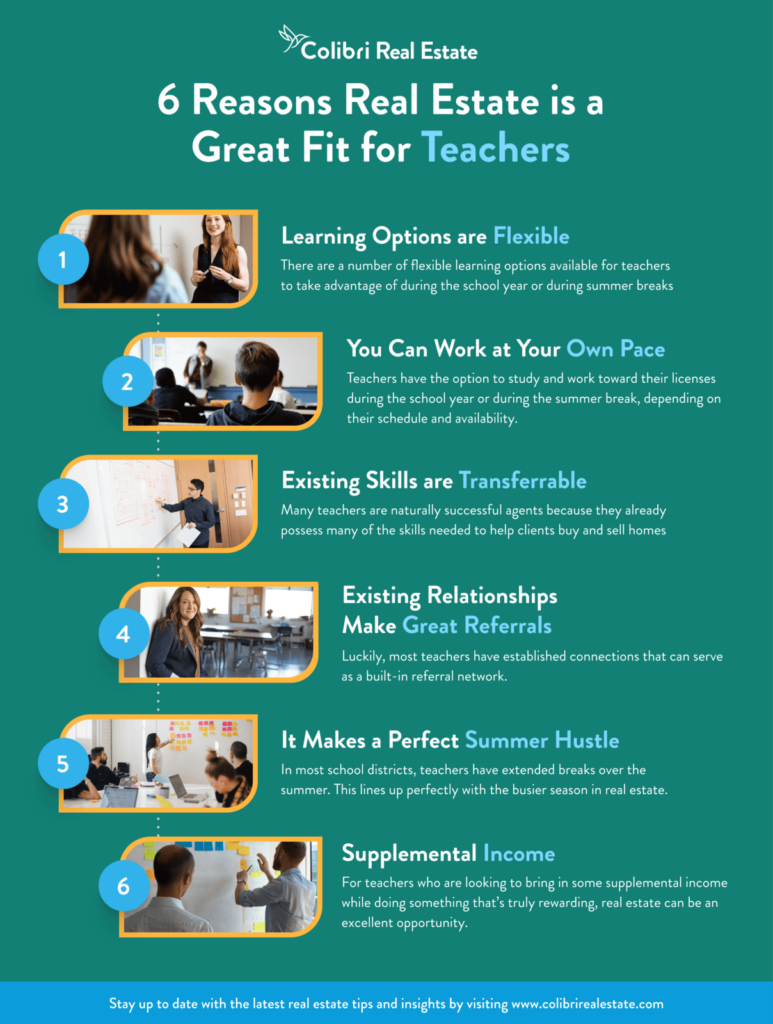 Share this Image On Your Site:
Please include attribution to colibrirealestate.com with this graphic.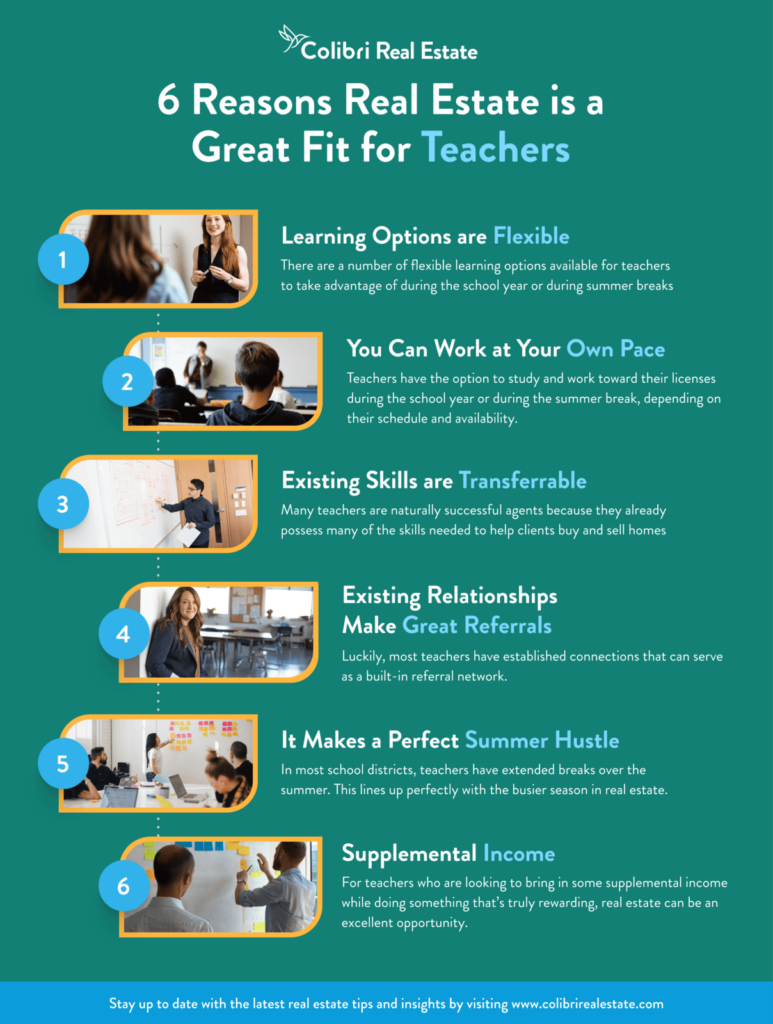 Many educators are anxiously counting down the days until summer. However, that could mean you have no salary coming in for a few months. If you're looking for a way to bring in some extra income or want to pick up a rewarding side hustle, it's important to understand how teachers can benefit from a real estate career.
While building a reputation as an agent can take some time, this is still a great part-time career option that many teachers find success with. Not only does real estate offer the flexibility and autonomy teachers need to generate an additional income stream, but many teachers already possess key skills that can serve them well in this exciting role.
Why Real Estate is a Good Fit for Teachers
So, what are some of the specific benefits of a career in real estate? Let's take a deeper look at how teachers can benefit.
Flexible Learning Options
When it comes to getting trained and licensed as a real estate agent, the options are flexible enough to work with even the busiest of teaching schedules. All of this will begin with preparing for the real estate exam. Fortunately, studying is a skill in which many teachers are proficient. Likewise, there are a number of flexible learning options available that teachers can take advantage of during the school year or during summer breaks.
Work at Your Own Pace
Many teachers also enjoy that they can work at their own pace when pursuing their real estate education. Many teachers study and work toward their licenses during the school year. This approach allows teachers to focus on the most important aspects of their work while continuing to advance their training. Other teachers may prefer to dedicate summer break to getting trained and licensed. The beauty of this career path is that you can work entirely at your own pace and in whatever type of schedule that suits your needs.
Put Your Skills to Use
Many teachers are naturally successful real estate agents because they already possess many of the skills needed to help clients buy and sell homes. For example, teachers are generally great problem solvers and have learned to adapt to situations out of necessity. These skills can serve teachers well when working with clients, all of whom are sure to have different needs and wants.
Likewise, teachers tend to be personable and enjoy being around others. Being a "people person" is really a must if you want to be successful in real estate, so this is a useful trait to have!
A Perfect Summer Hustle
In most school districts, teachers have a long vacation during the summer months. This lines up perfectly with the busier season in real estate. While teachers still have a variety of tasks, they're usually responsible for during the summer, they tend to have a lot more free time that makes it easier to take advantage of the busy real estate season.
Built-In Networking
Networking is one of the most important keys to success in real estate. Luckily, most teachers already have established connections with people in their local communities. These established relationships can serve as a built-in referral network, making it easier for teachers to pick up new real estate clients.
Supplemental Income
It's no secret that teachers aren't paid enough for the important work they do. In fact, the average public school teacher salary was just over $65,000 for the 2021 school year. For teachers who are looking to bring in some supplemental income while doing something that's truly rewarding, real estate can be an excellent opportunity.
Kickstart Your Real Estate Gig Today
With so many benefits to working in real estate as a teacher, what are you waiting for? You can take the first steps towards getting licensed as a real estate agent with help from Colibri Real Estate. Start your journey today and take advantage of our options for self-paced online learning, licensing exam prep, and much more. You can also reach out to our friendly and knowledgeable team with any additional questions you may have!