Realtors usually get paid through commissions earned by helping clients complete real estate transactions. While commission-based income may cause some to fret, others view this type of work as an exciting opportunity with unlimited potential. Let's examine the specifics of how real estate agents earn a living by answering the question, "How do Realtors get paid?" 
How Real Estate Commissions Typically Work
Property owners who are ready to sell hire a listing agent to represent them in the process. The listing agent (also known as the seller's agent) and the homeowner agree upon a commission rate, usually a percentage of the final sale price. The commission rate varies, but it is typically between 5 and 6%. 
The listing agent helps the homeowner determine the market value of their property. The agent writes a property description, arranges for photos, and uploads the home's details to the Multiple Listing Service (MLS) and other real estate listing websites. 
Within the MLS, buyer's agents (also known as selling agents) are able to see the commission split offered by the listing agent. Buyer's agents work with people looking for a property for sale. A buyer's agent finds suitable properties, negotiates on the buyer's behalf, and guides them through the purchase process. 
The listing agent usually offers half their commission to a buyer's agent who brings them a buyer for the property. Once the property sells, the two agents representing the buyer and seller split the commission.
So, if a property sells for $500,000, the listing agent and the buyer's agent could each receive 3% of the sale – or $15,000. 
Does a real estate agent keep their entire commission?
Typically, the listing and buyer's agents must share or split their commissions with their brokerages. 
A real estate broker oversees the work performed by real estate agents. These individuals have industry experience and additional education and have passed a test to become licensed brokers. 
The broker's commission is typically used to pay for overhead costs for running the brokerage. These can include office expenses and marketing materials. Some brokerages offer more tools to their real estate agents than others. However, a real estate salesperson may have to pay a greater percentage of their commission to receive these tools and benefits.
Types of Commission Structures for Real Estate Agents
When signing on with a brokerage, real estate agents agree to work with a specific commission structure. This is commonly referred to as the "split." 
The commission split can vary depending on several factors, including the agent's experience and production level. Here are a few common types of commission splits:
50/50 Split: This is a straightforward split where the agent and the brokerage each receive 50% of the commission earned from a transaction. This is a common arrangement for new agents or those who may not have a high production level. 
Graduated Split: Under this structure, the commission split may change if the agent achieves certain performance thresholds. An agent might start with a 60/40 split (60% to the agent, 40% to the brokerage) for the first few transactions. But once they reach a specific sales volume or revenue target, the split could improve to 70/30 or higher.
Tiered Split: Similar to the graduated split, a tiered split involves different commission percentages at various levels. For instance, an agent might have a 50/50 split for the first $100,000 in commissions. Then a 60/40 split for the next $100,000, and so on.
100% Commission: Some brokerages offer experienced, high-producing agents the option to keep the entire commission earned from a transaction, but they charge a flat fee or monthly desk fee for office support and services. 
Salaried: Instead of being paid solely from commission checks, a few real estate brokerages pay their agents a regular salary and offer additional commission and bonus opportunities. 
It's worth noting that most real estate agents are self-employed. This means that Realtors must pay their own income tax, which most do quarterly. Most real estate agents must also arrange for their own retirement and health insurance. 
How Much Do Real Estate Agents Make?
According to a study by a real estate educator leader, full-time real estate agents earn $156,970. A real estate agent works on average 33 hours per week and reports a career satisfaction rating of 3.59/5. 
To learn more about real estate agent salaries and the factors influencing their compensation, check out this informative resource, Colibri Real Estate 2023-2024 Salary Guide.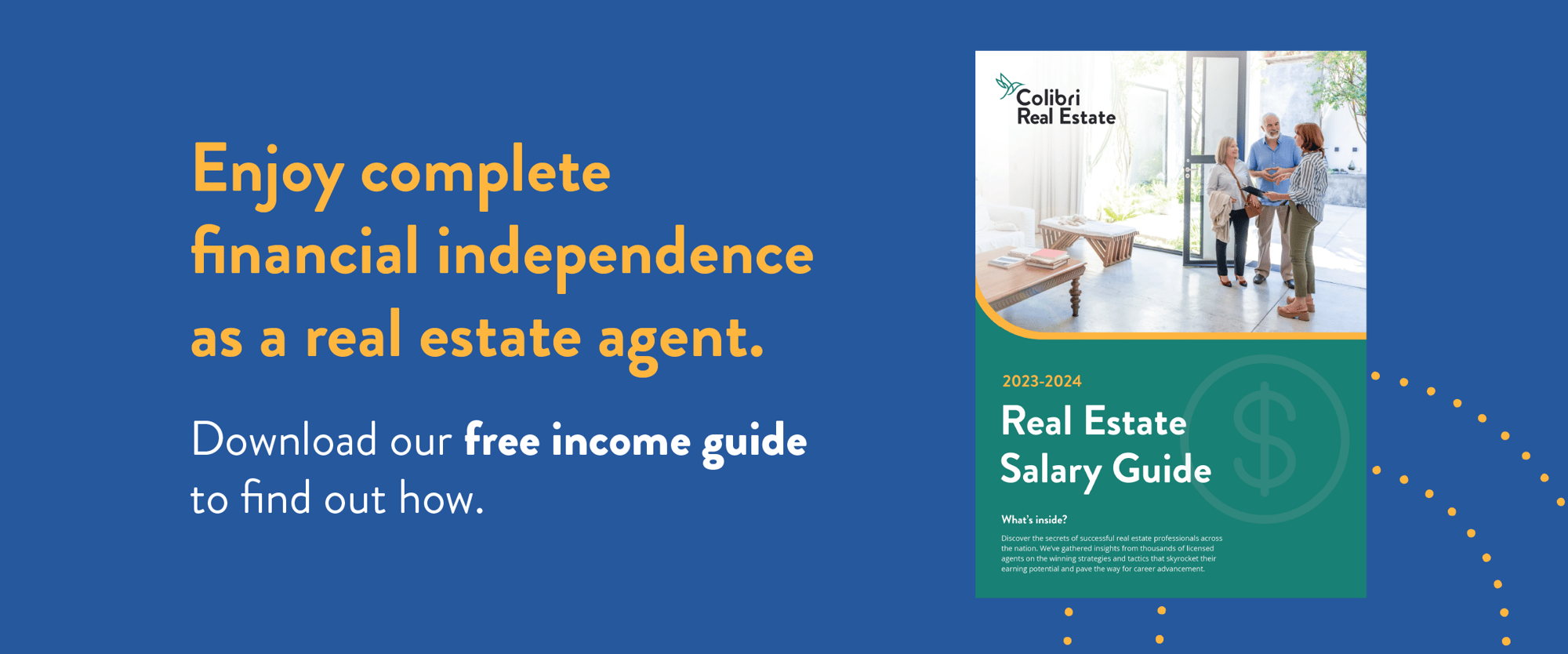 Being well-informed helps you enter the field with confidence.  Are you ready to take the first step to becoming a licensed real estate agent in your state? The best way to get started is to sign up for quality, online pre-licensing courses. Colibri Real Estate can help!
Colibri Real Estate is a highly-rated online real estate school that offers a "Pass or Don't Pay Guarantee." Learn more about preparing for the real estate industry – or sign up for state-specific courses – by visiting our website.