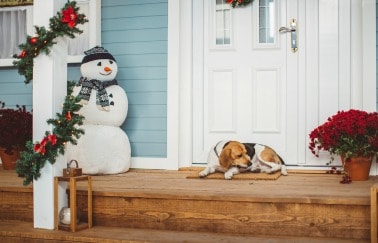 This week's news round-up has its focus on the holidays—from house hunting during the Christmas season to appropriate décor for homes up for sale, the real estate market continues to be strong. As we move into a new year, however, home equity loan payments might be higher with rising interest rates. If one of your resolutions in 2017 is to improve your marketing, we've got some LinkedIn tips for you as well. Take a break from the holiday hustle and bustle with this week's collection of articles.
With more new homes on the market, holiday house hunting looks good
If you are asking Santa for a new home this year, this holiday season is a good time for house hunting because more newly constructed homes have come onto the market. Find out more about home buying in December, and what the outlook is for the new year.
Holiday décor tips and tricks for sellers
The theme of the season may be "merry and bright," but is too much holiday bling too much when you are trying to sell a home? These tips about holiday decorating will ensure your sellers don't cover up their home's best attributes with too much festivity.
7 reasons you should buy your next home right now
If you have buyers who are tired of making multiple offers on homes, only to lose out in the end, the good news is that the market has likely cooled for the holiday. With less competition this time of year, it could be the perfect time for those who might have been holding off to jump into the real estate game.
One of your monthly housing bills may get bigger
Interest rates are rising, and because most homeowners today have a fixed-mortgage, this may not seem like a concern to many. But many of these homeowners also have home equity lines of credit—most of which are adjustable rate—and those loans are soon going to get more expensive.