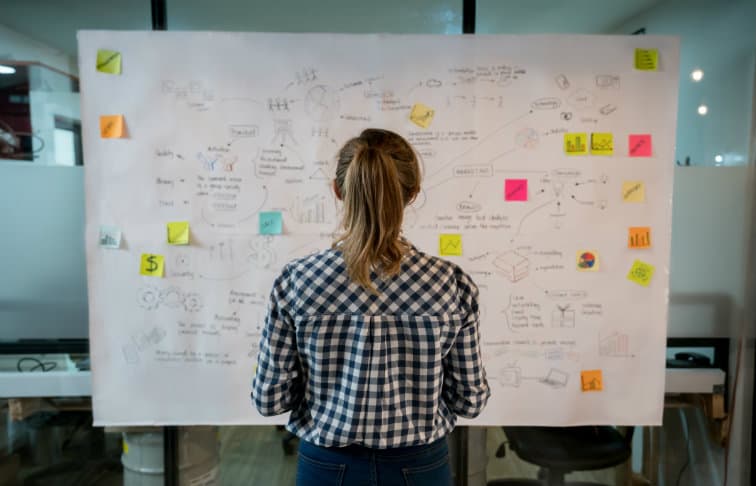 Technological advancements, including AI, are changing the real estate industry. Here are some ideas on how to stay on top of current real estate trends.
Why You Need to Keep Up with Current Real Estate Trends
By no means do we want to be a harbinger of doom. However, here's what can happen if you don't stay current in the real estate industry.
Your numbers will suffer.

Are you noticing a downturn in income? Could the reason be that your tried-and-true marketing practices aren't working anymore? Or maybe you don't have the pulse of millennial homebuyers? Or do you need help understanding the advancements in property valuation? All of these could affect your income. 

Your clients will suffer.

Even though your clients have abundant information at their fingertips, they look to you to analyze the data. Your reticence in using AI and other technology for predictive analytics may reduce your investor-clients' trust. 

You'll work longer hours with fewer results.

Some of the new real estate tools are good – actually really good. Refusing to use AI and other technology "on principle" is the same as someone refusing to use a washing machine because they've always used a washboard. Why not make things easier on yourself? You don't have to use your extra time for rest and relaxation if those make you uncomfortable. Instead, you can spend your new-found time jumping into other projects to promote your business.
How to Stay Up on Current Real Estate Trends
Here's some general advice on how to stay current in the real estate industry.
Attend industry events.
Real estate organizations like the National Association of Realtors want to help you succeed. If you are frustrated at how the business has changed, attend all of the clinics, seminars, and conferences that you can – and don't forget to bring your positive attitude and growth mindset.
If you have survived in this competitive industry for decades, you are smart enough to learn new ways of doing things. However, you may have to put your pride aside and accept that you can learn something from your younger, less experienced peers. 
Keep meeting the movers and shakers in your community.
The lyrics to an old Girl Scout song sum up this point. "Make new friends, but keep the old ones. One is silver, and the other is gold."
Of course, we are more comfortable with people in our own age group. However, if your community is experiencing a "changing of the guard," – do what you can to make new associates. Again, keep an open mind and heart. 
Track your return on investment.
You may have had great success 15 years ago by passing out koozies and interacting with the crowd at a local football game. But is that strategy still working?
As a real estate agent, you are used to relying on data and numbers. Skilled agents track their time, effort, and investment and compare those with their results.
If the football tailgating strategy isn't working anymore, it's time to change gears. It may be time to hit up the area's soccer moms . . . or turn to online advertising. 
Track real-time market data.
Regardless of your niche, staying current with the data in your local market is essential. This isn't anything new – but how the data is tracked has changed. 
This information will help you understand supply and demand in your community – and help your client make informed decisions fast. 
Stay current on real estate mortgage changes.
We're sure you are doing this already, but staying current with the mortgage industry is essential. There is a significant difference between a buyer who was able to get a 2.7% mortgage rate in 2022 – and one who has a 7.988% rate. Understanding the different mortgage products, such as adjustable-rate mortgages, will help you educate your clients. And knowing the lenders in your community will also help. 
Listen to your clients.
After what feels like your millionth showing or open house, it's easy to tune out homebuyers' reactions. But if you are having difficulty connecting with a particular type of buyer – actively listen to their responses on different properties. This information will help you better market your seller's properties to appeal to current buyers. 
Be a lifelong learner.
There's a difference between taking classes to keep your real estate license current and taking classes to stay current in the industry. Do both by taking continuing education courses with Colibri Real Estate. 
Colibri Real Estate is the best online real estate school in the country. This is because no other national online school has experienced local real estate instructors offering insights and guidance about the real estate market in your area. We are so confident in our instruction that Colibri Real Estate offers the pass or don't pay guarantee. 
Stay on top of current real estate trends by taking continuing education courses with Colibri Real Estate.