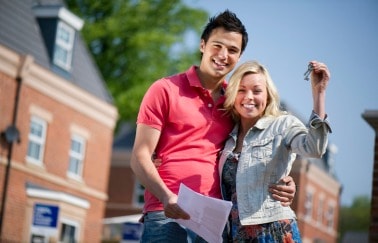 This week's roundup of real estate news covers a multitude of topics. It might surprise many to know that now could be the best time for first-time homebuyers to jump in, despite all the talk of higher interest rates. Foreclosure activity hits a 10-year low. More home sales continue to fall through before buyers and sellers can seal the deal. U.S. homebuyers are trading green amenities for square footage. Some of the most popular trends from recent years might be no-nos for 2017. Read on for the scoop!
Now is the best time ever for first-time homebuyers
All the recent talk of higher interest rates might have some potential first-time home buyers worried about taking the purchasing plunge. But with the FHA's announcement that they would be cutting mortgage-insurance premiums on FHA-backed loans, now might be a great time for those sitting on the fence to make a buying decision.
Things fall apart: Why more home sales are falling through
Real estate agents and buyers and sellers alike dream of quick an easy sales where the perfect home is found for the perfect price and all the paperwork and other details go through without a hitch. The reality, however, is that this rarely happens. In fact, home sales fell through at an increasing rate in 2016. Experts weigh in on what might be behind this unpleasant trend.
Foreclosure activity hits a 10-year low
In its lowest filing rate since 2006, foreclosures mark their fifteenth consecutive month with decreases in activity. ATTOM reports that even as banks continued to wrap up straggling foreclosures from the last housing bubble, the national rate has stayed within a normal range for the third consecutive year.
7 interior trends that are "out" for 2017
Making a home appealing to buyers is an important part of selling. When it comes to home renovations, it's important to pay attention to what features and finishes keep a house updated—and what makes a house outdated. Find out what is on point for home trends in the new year.
U.S. homebuyers trading square footage for energy efficient amenities in 2017
For the first time since 2009, the size of a typical home has gotten smaller as homebuyers show a preference for energy efficient amenities over square footage. This trend is expected to continue as more and more first-time homebuyers enter the market, voicing their demands for smaller, more affordable homes with their preferred updates.