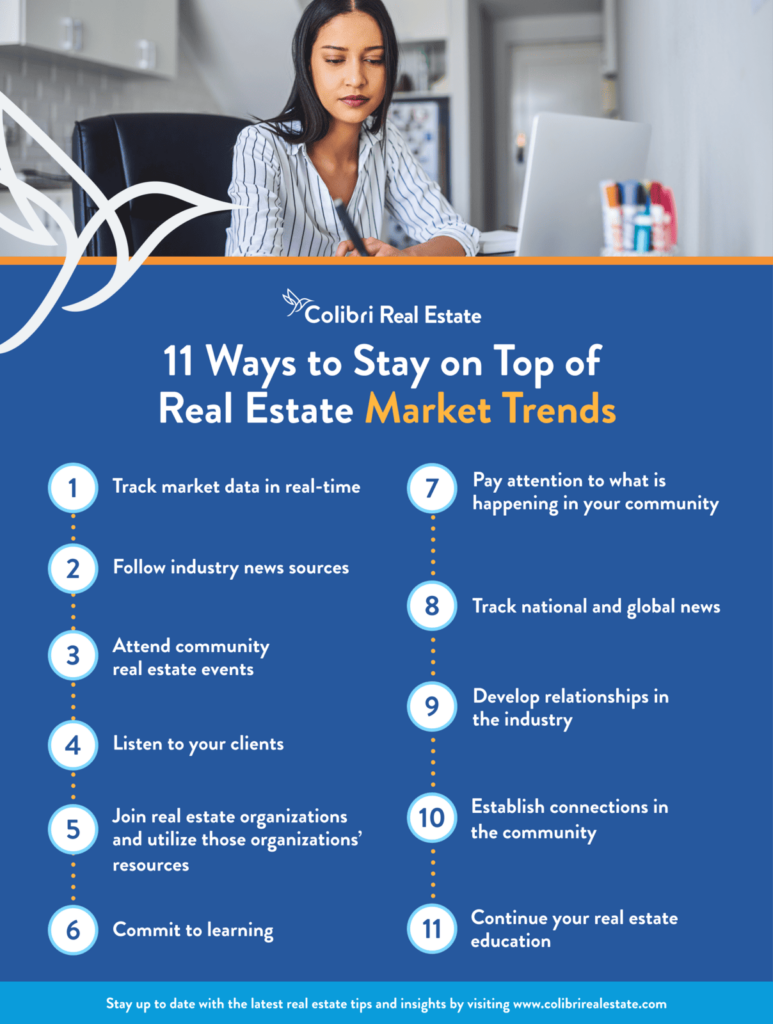 Unless you are a professor of ancient Greek, staying current in your industry is essential. This is especially true if you work in medicine, technology, – and real estate. Here's how to stay current on real estate market trends.
How to Stay on Top of Real Estate Market Trends
You owe it to your clients to stay abreast of the real estate trends in your community. – And since your salary is based on commission, it's also crucial for you.
Here's how to stay current on local and national real estate market trends.
1. Track market data in real-time.
Keep track of local values and buyer demand – especially for properties within your niche. Monitor critical factors such as the average home price, inventory levels, and the list-to-sold ratio. At a national level, track the interest or mortgage rate.
Staying current with all of this relevant information will help you formulate effective strategies for buyers and sellers. You'll be more likely to understand the optimal times for buying and selling in your community. And keeping an eye on comps in your area will help you price homes for the highest profitability.
2. Follow industry news sources.
One of the best ways to stay informed about real estate market trends is to follow real estate blogs and trade publications. These sources often provide updates on market conditions, new regulations, and global issues affecting your local housing inventory.
Read newsletters of national organizations such as the National Association of Realtors and the National Association of Home Builders – and even those from national insurance and banking agencies.
3. Attend community real estate events.
Attend clinics, seminars, and real estate conferences in your community and region. This will allow you to hear from experts in the industry and network with other professionals.
4. Listen to your clients.
Unlike some other industries, you constantly interact with your customers as a real estate agent. Listen to your clients – especially your buyers. You may notice trends when learning about their wants and needs.
5. Join real estate organizations – and utilize those organizations' resources.
The National Association of Realtors (NAR) offers many resources and information about best practices, new regulations, and market trends. However, don't forget to join local real estate organizations – and actively participate in their functions.
6. Commit to learning.
Being a lifelong learner will not only help you grow as an individual – it will also help you grow as a businessperson. Learning about new topics outside your typical area of interest may also allow you to develop new relationships that could enhance your personal and professional life.
Commit to reading at least one business-related book each month.
7. Pay attention to what is happening in your community.
Read local papers and bloggers. Attend city council meetings. Pay attention to plans for new developments and businesses. Pay attention to changes to area schools. It is also helpful to follow crime reports.
8. Track national and global news.
As a real estate agent, you must stay abreast of global news. Track consumer confidence indicators and the 10-year Treasury yield as a benchmark for interest rates.
9. Develop relationships in the industry.
You can learn a lot about real estate market trends by chatting with an area lender or property manager. Develop relationships with contractors, title agents, and inspectors. These local business leaders are also affected by trends in the real estate market. It is helpful to view the industry from their perspectives.
10. Establish connections in the community.
Join civic organizations and attend fundraising events. Grow your in-person and social media network. Get out and meet people in your community. This will not only help you grow your business, but it may also help you to learn more about what is driving sales in your area.
11. Continue your real estate education.
Colibri Real Estate (formerly Real Estate Express) can help you stay on top of real estate market trends. We offer a wide range of continuing education classes that will help you expand your industry knowledge – while also getting the continuing education hours you need for your license renewal.
Thousands of agents and brokers turn to Colibri Real Estate to improve industry skills, increase income potential and establish a competitive edge in the industry.
Our courses are up-to-date and relevant to the industry. We also help you connect with other professionals.
Colibri Real Estate Offers Resources for Real Estate Agents at Every Experience Level
Colibri Real Estate can also help you enter the real estate profession. We offer state-specific pre-licensing courses. Check out our Ultimate Learning package, which has one-year access to Career Success Tools. These tools include Pro Series Webinars and a Professional Development Library.