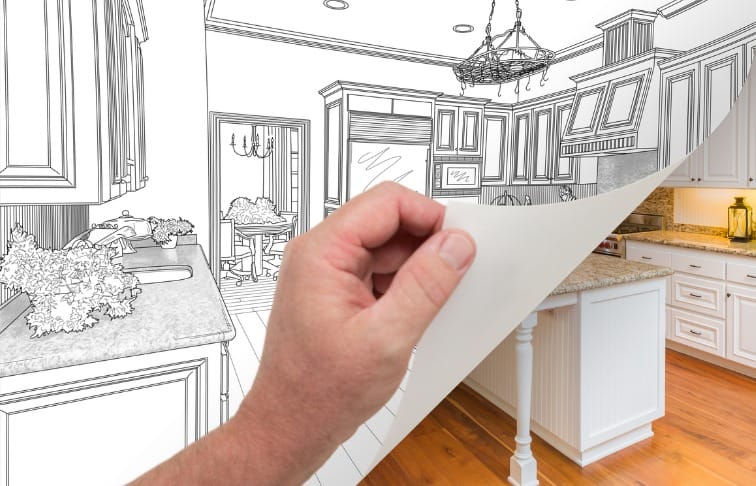 Property flipping, or house flipping as some people call it, can be a lucrative way to earn money in real estate—if it's done right. Since it requires a sizable investment of your own money, becoming a property flipper can also be a risk that doesn't always reap rewards.
Many people get into real estate, via the house flipping route, to earn a part-time income or as a way to experiment with a real estate career while discovering which real estate career path is the best for their lifestyle. If you're interested becoming a house slipper, these steps will help you get going on the right path.
Want to get started in property flipping? Here are the steps you need to take to become an intelligent house flipper.
Step 1: Get your real estate license
When beginning a flipping career, it's a good idea to be the most rather than the least prepared. You don't need your real estate license to become a house flipper but it's a good idea to get your real estate license because it will open up more opportunities for you throughout the process. Studying for a real estate license tests lays a great foundation for house flippers of all the details, vocabulary, and forms needed to buy and sell a home.
"Most states have several disclosure forms required by law," says Bill Gallagher, a Charlotte, NC real estate agent who's taught pre- and post-licensing courses for 25 years. "The national exam gives flippers confidence that they've mastered the material."
That material includes information on disclosure forms, zoning challenges, financing details, and Home Owners Association regs, all of which is critical information attached to buying and selling homes.
"Everyone thinks that real estate is easy," Gallagher says. "It's the opposite. Having knowledge of what can go wrong—all the liability issues—can really help reduce your risk."
Download our free guide: Is a Real Estate Career Right for You? 
Step 2: Access the MLS
When buying and selling a home, it's all about the Multiple Listing Service (MLS), which is the place to go for accurate information on properties for sale and properties sold.
Unlike some online listing sites, the MLS status data "is accurate and verifiable," Gallagher says. "Other sites aren't reliable 100% of the time. You always have to go back to the MLS."
The catch is: You have to be a real estate agent and a member of a national, state, and local real estate associations to gain access to the MLS. If you're not an agent, you'll have to pay one—sometimes as much as $1,000—to list your property on the service.
If you flip several properties, those fees add up and eat into profit.
Step 3: Receive brokerage support
Real estate brokers can provide invaluable advice and support to newbie house flippers.
"Say to the broker, 'Help me. Lead me. Guide me.,' " Gallagher says. "It's a great way to learn the business and get support."
Also, brokerages come with a slew of agents who can bring buyers.
"Exposure is key," Gallagher says. "Many brokers say, 'Let's try to sell it in the firm first.'" That could mean, allowing agents to bring clients during a "coming soon" period before the property officially is on the market.  It also could mean you'll have advance notice of properties coming to market, which could be your next flip.
Step 4: Purchase a real estate property
This is probably one of the steps to house flipping you're probably most familiar with after watching property flippers on reality T.V. If you already have your real estate license when you get to this stage, you'll have access to the MLS and be able to find deals on properties that you can fix up. Here are some considerations when purchasing the property:
Will you get financing for this property or pay the total price up front? If you're taking out a mortgage on the home, what monthly payments can you reasonably afford after you factor in the cash costs you'll need to renovate?
Will you purchase this property with the help of real estate investors or do it on your own?
What are the property value trends in the areas you're shopping?
Step 5: Renovate the house
Next up, time to renovate! When you're renovating, it's important to stay on budget so you'll end up making money on your house when you sell it. Here are some tips to help you keep costs down in this stage:
Create a budget
Use a cash back credit card, or a credit card with great rewards points on your business purchases
Reuse materials or buy used, salvaged materials from other house flippers
Stick to classic designs that will resell well
Take your time when accepting bids from contractors to find the right one
Be specific with your initial budget so you'll have an accurate estimate from the start
Decide where you'll splurge and where you'll stick with the minimum
Step 6: Flip a property and earn a real estate commission
You'll always have to pay the agent who shows up with a buyer a 2% to 3% commission. But a real estate license for property flippers means you can represent your own property; so you can either save the money or pay yourself a listing commission.
Some brokers—not all—will let their agents pay themselves or eliminate the listing commission on sales of agent-owner properties. In May 2018, the median price of a home was $252,800, according to the National Association of Realtors; so if you act as your own listing agent, you'll save $5,056 to $7,584, which could be the difference between making a profit, breaking even, or losing money on a flip.
Do you need a real estate license to flip houses?
You don't necessarily need a real estate license to flip houses, but it could be useful. Not only could it help you get the best deals on your own personal house flipping process but it could help you earn money while you're working on your own home. Many months go by between identifying and buying a property, fixing it up, and selling it for a profit (hopefully).
House flippers who've obtained a real estate license can earn money buying and selling other people's properties while they're working on their own. And since real estate agents often work nontraditional hours—nights and weekends when clients are available—they can manage a construction site that typically starts at 7 a.m. and knocks off at 3 p.m., and earn commissions on real estate deals during off hours.