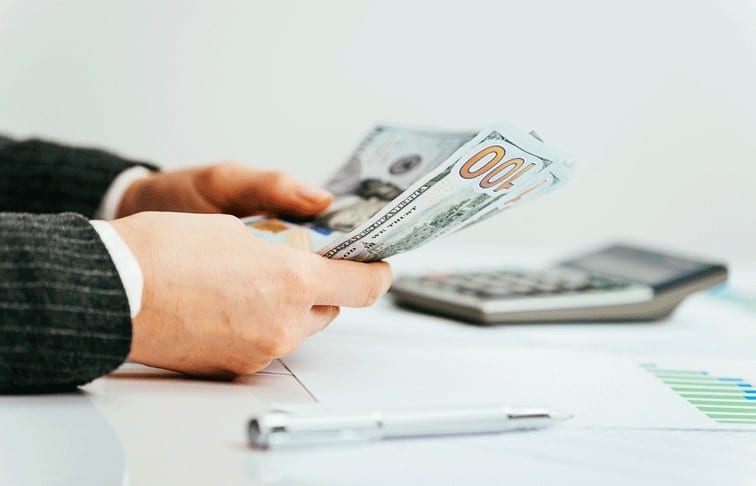 As a new real estate licensee or someone considering a career in real estate, you need to understand the basics of real estate commission, as this is most likely how you'll be paid. While some brokerages are moving to a more salary-based structure, the majority of today's brokerages still operate under a commission-based system. Therefore your real estate agent salary will be based on the all-important commission split.
Step 1: Negotiate Real Estate Commission Splits
You'll typically negotiate your real estate commission split with your brokerage when you sign on with them. Initially, most brokerages have a standard commission split that they offer to new agents. Once you've got some experience under your belt, or reach a certain production threshold, your broker will usually increase your commission split.
FREE Download: What can you expect costs to be in your first year as a real estate agent?
In a nutshell, the commission split works like this. Say you sell a $300,000 home, and the average agent commission in your area is 6%. First, that 6% commission gets split between the buying and selling agent (3% for each of you). If you're representing both the buyer and the seller, congratulations: you keep the full 6%.
Let's say you're representing just the buying side. That 3% amounts to $9,000. Now, you'll need to share that with your broker. If you're on a 60/40 split, that means you'll take home $5,400. Just remember that, as an independent contractor, you'll be responsible for your own taxes. This number is pre-tax and pre-expenses.
Step 2: Estimate with trends how much does a real estate agent make per house
According to data collected for the National Association of REALTORS® 2020 Member Profile, REALTOR salaries differ slightly from other real estate agent salaries, but the average REALTOR's earnings is a good estimate for a typical real estate agent salary. Here are a few statistics to commit to memory:
REALTOR median yearly income is around $49,700.
REALTORS with 16 years of experience or more averaged nearly $86,500 per year.
27% of REALTORS earned more than $100,000 per year.
Income optimism continues. According to those agents who responded to our survey, published in our 2020-2021 Real Estate Agent Income Guide, the majority of both real estate agents and brokers indicated they earned more from the real estate business in 2019 than they did in 2018.
Find the best real estate brokerage to work for with our FREE downloadable worksheet.
Step 3: Calculate real estate commission based on sales
Since your real estate agent salary will likely be commission-based, how much you make each year will depend on how many sales you have. When you start to investigate a career in real estate, research your target market. How many homes are selling each month in that market? How many agents are there? Is it a big enough market for you to reach your financial goals?
If you're planning to sell real estate in a large metropolitan area, you'll probably find plenty of business available. But let's say you're interested in selling real estate in a small coastal community of the shores of North Carolina. How many homes sell each month? How many agents will you be competing with? What's the average home price in that part of the country? Those factors will all influence your real estate agent salary.
What other factors will affect your real estate income? Check our article: 7 Costs to Consider When Starting a Real Estate Career.
According to the Bureau of Labor Statistics, agents in large metropolitan areas make higher salaries. This is in part due to the number of homes that sell each year. But it's also because of the average price of the homes they sell. On the other hand, agents in small communities can do very well if they specialize in high-end real estate sales.
Step 4: Increase your real estate commission salary by learning more
One of the best ways to increase your earnings potential is through real estate education. For example, you could earn a specialist designation for luxury home marketing or for helping military families relocate. By doing so, you develop a specialty niche that allows you to cater to a wider pool of potential buyers. For more information on how to increase your real estate agent salary, see our article: 5 Ways New Real Estate Agents Can Boost Their Salaries.
Ready to start your real estate career? Download our free guide: Is a Real Estate Career Right for You?