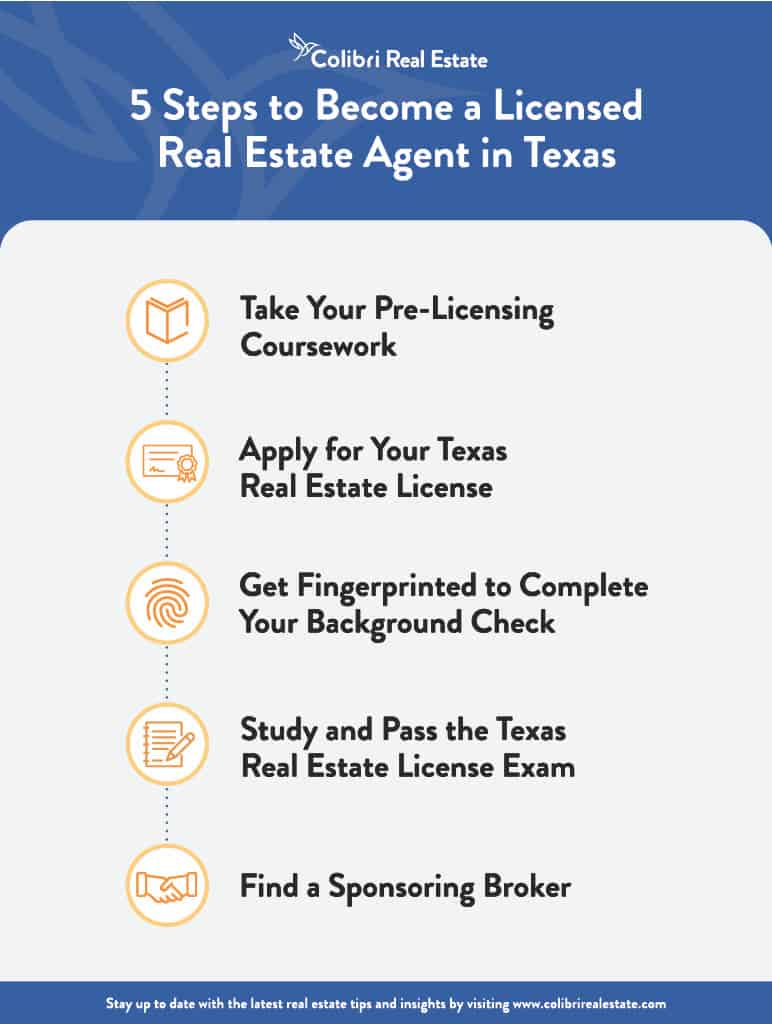 Unlike other professions that require years of training – or even a college degree – you can become a licensed real estate agent in Texas within a few months. We'll walk you through the process and help you pick out a Texas real estate school.
Are you 18 years old? Are you eligible to work in the U.S.? If so, you can get started with the process to become a Texas real estate agent today.
Here's the step-by-step process.
How to Become a Texas Real Estate Agent
You must complete coursework, pass a test and a background check, and fill out paperwork to become licensed as a Texas real estate agent. Here are the nitty-gritty details to help you get started.
FAQ: How long does it take to become a real estate agent in Texas?
Earning a real estate license in Texas may take four to six months. Even if you devote 40 hours a week to real estate classes, finishing the pre-licensing coursework will take more than a month. It may also take several weeks for the board to approve your application. 
You could be immersed in a new career less than one year from today. It's time to get started!
Step 1: Enroll in a Texas real estate license course.
The Texas Real Estate Commission (TREC) requires candidates to take 180 hours of coursework before sitting for the real estate licensing exam. 
The pre-licensing course covers heavy topics like agency law, real estate ethics, and contracts. You need to have an intimate knowledge of these subjects to pass the licensing exam – and to guide your future clients as they buy and sell properties.
Do your research when choosing a Texas real estate school. Most people choose to take the courses online because that method offers more flexibility than in-person classes. 
As you research online real estate schools, look at previews of their materials to understand how the subject matter is presented. Read reviews and look at success rates. Some real estate schools even offer a pass-or-don't-pay guarantee.
Step 2: Apply for your Texas real estate license.
Once you have completed your coursework, begin the application process by visiting the TREC website to create an account. Then, complete the online Application for Inactive Real Estate Sales Agent License and pay the $185 fee.
The application will only take a few minutes to complete and requires your legal name found on your government-issued ID and your Social Security number.
The rest of the application requires you to provide information on your legal background and previously held professional licenses. This information is required, as you must pass a background check to work as a real estate sales agent in Texas.
Once your application is submitted and approved, TREC will send you a letter with your ID number. Once you have received that number, you can continue the licensing process.
Step 3: Get fingerprinted to complete your background check.
Once you have your TREC ID number, schedule an appointment at one of the MorphoTrust locations across the state. Bring a photo ID, your TREC eligibility letter, and a check for $39.70 to your appointment. (You can use a credit card if you pay online in advance, but you will be charged a slightly higher rate –$40.85.) 
Step 4: Study for and pass the Texas real estate license exam.
Have you completed your pre-licensing real estate courses (and have the documentation to prove it?) Have you passed your background check? If so, it's time to schedule your Texas real estate license exam.
Pearson VUE administers the real estate exam in Texas. Visit their website or call Pearson VUE to schedule your test. You may be able to take your exam at home with virtual proctoring. The exam costs $43 each time you take it.
(TIP: When you sign up for the exam, make sure your name and personal information match the data found on your ID.)
The Texas real estate license exam includes both a national and Texas-specific section. You have four hours to complete the multiple-choice test. 
As you can imagine, most people need time to prepare for the Texas real estate exam. Some real estate schools include exam prep materials to make studying easier. If your real estate school didn't provide these tools, we recommend purchasing an exam prep package with practice exams.
Your score will immediately appear on the screen when you finish the licensing exam. If you pass the test and the background check, you'll receive your license from TREC via email within five to 10 business days. From there, you've officially become a licensed real estate agent in Texas!
Step 5: Find a sponsoring broker.
Beginning real estate agents in Texas must have a broker oversee all their transactions. In fact, this is a requirement for all real estate agents unless or until they become a broker themselves.
Once you have found a broker to work under, you can begin your career as a real estate agent!
Next Steps
We've outlined the steps you need to take to become a real estate salesperson in Texas. Let's circle back to the first thing you need to do – enroll in a Texas real estate school.
Colibri Real Estate (formerly Real Estate Express) has helped hundreds of thousands of people earn their real estate licenses. Our courses are expertly designed to explain complicated material in an easy-to-watch format. We are experts in providing quality online real estate education.
In fact, we are so confident that we can help you earn your Texas real estate license that we offer a pass-or-don't-pay guarantee with most of our pre-licensing packages.
And when you buy your pre-licensing courses from Colibri Real Estate, you'll receive quality exam prep materials and support from state-approved instructors.
Our students return to us when they need to take continuing education classes to maintain their license – and when they are ready to upgrade their license to become a broker.
Enroll in Colibri's Texas pre-license courses today, and in just a few months, you'll be showing houses in Austin or ranches in West Texas.