Get your real estate license with a top online school
Aspiring real estate agents, your new career awaits. Thanks to our highly rated courses, local and expert instructors, and flexible learning opportunities, landing a real estate license has never been easier. Enroll in courses today and join 520,000 other real estate professionals who got their start with Colibri Real Estate.

How to Get a Real Estate License In 3 Steps
01
Complete pre-licensing education.
As a prospective agent, you must take pre-licensing courses from an approved real estate licensing school. Upon completion, obtain your official transcripts or certificate; this is required to finalize your license application.
02
Pass your real estate exam.
Once you've passed the final pre-licensing exam, schedule your state licensing real estate exam. To help you with questions not covered in pre-licensing curriculum, look to Colibri Real Estate's exam prep program, powered by CompuCram, to highlight practice questions for your state.
03
Launch your real estate career.
Congratulations! You're officially a real estate agent! Now you can begin working with a broker who will put you on solid ground, ensuring success right out of the gates.
Your success starts at Colibri Real Estate.
Learn from local experts
Real estate classes are taught by active and seasoned real estate instructors that have experience and insights on the market in your state.
Pass your exam on the first try
Bring confidence to exam day. Enroll in industry-leading exam prep to help you pass on the first try. If you don't pass your licensing exam on the first try, we'll reimburse the original cost of either your pre-licensing package or the exclusive exam prep you purchased.
Enjoy flexible learning options
Get the real estate course experience you need — your way, every day. Explore multiple ways to learn, and discover the method that best fits your goals.
Amplify your career confidence
If you're here, a career in real estate is calling you. Join 520,000 other students who found success with us.
For all your real estate education needs, we have you covered.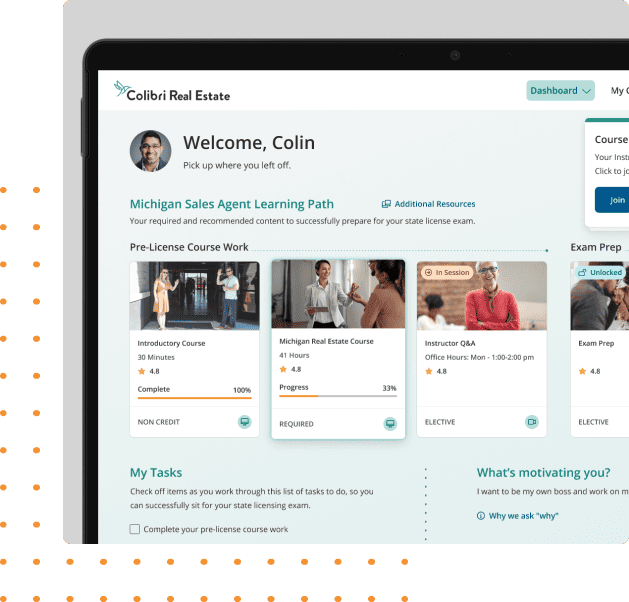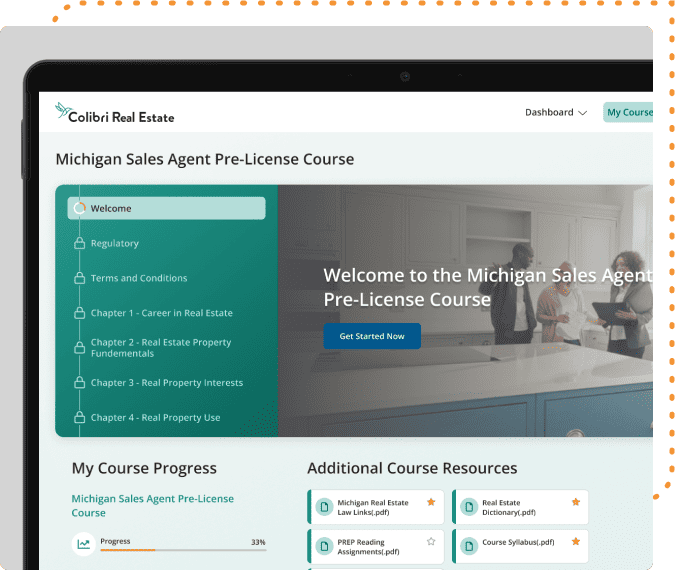 Self-paced Online Learning
Study at your own pace backed by the support of Instructor help when you need it
Follow our recommended path to successfully getting your license
Set weekly study goals to keep yourself on pace to goal
Track progress across required course work
Livestream
Attend virtual real estate classes led by instructor from the comfort of your home.
Follow a set schedule of classes taught by local experts
Access to all the resources you need online
Choose the pre-license real estate courses that are right for you.