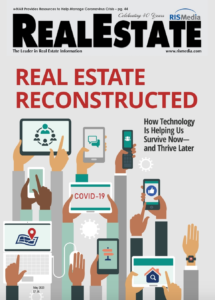 At Colibri Real Estate, we want our customers to have all the resources they need to be successful in real estate. That's why we've teamed up with RISMedia, the leading provider of the most relevant and up-to-date information related to the residential real estate market.
As their Strategic Education Partner, we are able to give our customers free access to the digital edition of the RISMedia monthly magazine.
This real estate magazine is full of thought-provoking and valuable content that prospective and licensed agents of all years of experience can apply to their careers. Here's a brief overview of what you will find in this month's edition.
Cover Story
Real Estate Reconstructed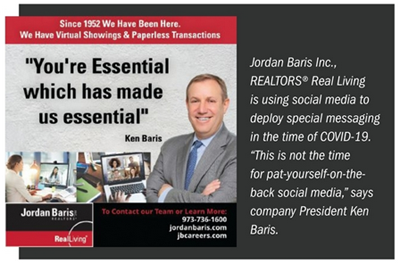 This month's cover story, written by Maria Patterson, describes how technology is helping to transform the way that businesses run during the COVID-19 pandemic—especially in real estate.
Patterson interviews industry leaders about how they've responded and adapted to the crisis. The article discusses real estate professionals' increased reliance on technology and social media. It also explores what new lessons, skills, and adaptations they plan to carry forward into the future, in order to build a stronger business after the crisis has passed.
Read the full article on page 26 of the digital magazine.
Industry News
NAR Provides Resources to Help Manage Coronavirus Crisis
This piece, written by Bob Goldberg, outlines the various resources that the National Association of REALTORS® has provided to help their members manage the coronavirus crisis, stay safe, and begin to rebuild once the crisis is over.
Resources include a coronavirus information page on their website, a national support hotline, and a re-launch of their Right Tools, Right Now initiative. The updated Right Tools, Right Now toolkit "makes new and existing NAR products and services available at no cost or at significant discounts" and includes "an expanded tele-medicine benefit for members."
Read the full article on page 44 of the digital magazine.
Policy News
Fair Housing in the Time of Coronavirus
April was Fair Housing Month, and this year it came during a spring real estate season unlike any other. "This period of self-quarantine has afforded real estate professionals the time to sharpen their understanding of fair housing through online training and other virtual resources. The novel coronavirus outbreak has also raised novel fair housing issues for real estate professionals." This article, written by Bryan Greene, highlights NAR fair housing initiatives, including Fair Housing Month @ Home and free online implicit bias training.
Read the full article on page 13 of the digital magazine.
Real Estate Tips and Stories
5 Steps to Converting FSBOs
As a real estate agent, it can be a challenge to win over For-Sale-By-Owners (FSBOs). National real estate coach and creator of the 90-Day Bootcamp, Sherri Johnson, gives expert tips on how to get an appointment and land the listing. According to Johnson, one of the keys to converting FSBOs is to offer free value in the form of home staging tips, a pricing strategy, or marketing tips. "The goal is to add enough value that you get yourself an appointment." Getting the appointment, Johnson says, is absolutely crucial.
Read the full article on page 55 of the digital magazine.
Consistent Communication for Managers in the Time of COVID-19
In this piece, Sherri Johnson asserts that "today's real estate managers and brokers need to commit to consistent, leading communication during this extraordinary time of social distancing and economic downturn." And she provides a blueprint for making that happen. Johnson says it's important for managers to hold weekly video conferences, keep up with their sales meetings virtually, and time-block for agent calls.
Read the full article on page 84 of the digital magazine.
Click here to learn more about Sherri Johnson's 90-Day Bootcamp.
Subscribe to our blog to get more real estate news and updates straight to your inbox.