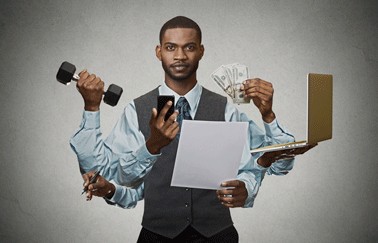 Let's face it. Real estate can be a very busy, stressful profession. Agents often find themselves juggling multiple tasks on a regular basis. A typical business day fills up fast and may include: preparing marketing pieces, attending team morning meetings, having lunch with a lender, showing properties to new clients, reviewing contracts, hosting an open house, catching up on emails and texts, and more. How can a busy real estate agent squeeze in all of these things—and more—without feeling squeezed? Here are three tips on how to improve your time management skills as a new real estate agent.
Tip #1: Prioritize and focus
Focus on what tasks are first priorities, secondary priorities, and time wasters. Follow these four steps to help you stay focused and productive:
1. Define your business and life goals
What kind of a real estate agent are you? Will you be a "Jack-of-all-trades" type? Alternatively, will you specialize on one area of real estate sales, like buyer representation, or investment properties, or raw land? Once you decide what your niche is, you can focus on how to become the best at it.
How do you balance your professional life and personal life? If you have no social life, it is easier to work 24/7. On the other hand, if you are married or want to maintain a healthy social life, how many hours per week do you want to work? Dedicating maximum hours per week gives you a ceiling to work with.
FREE DOWNLOAD: Learn how to gain a competitive advantage (and increase your income) in our career guide.
2. Prioritize and organize your work
Setting up your priorities is critical for organizing them in a time-saving, productive manner. Keep track of your time to figure out how you are spending it. Track your time for a week to see what activities take up most of your time. Take advantage of free online time-tracking tools.
One-click time tracking with toggl.com helps to keep track of time spent on all your projects. This allows you to manage your time more efficiently. When you review your time-tracking record, you can decide what to eliminate or reduce. For instance, if you spent too many hours watching TV every night, maybe cutting back will allow you better sleep. If you stop at a coffee shop every morning to read the newspaper for an hour, you will save time by buying a good coffee maker at home. Free up your time by eliminating time wasters.
3. Focus on important work
A great way to focus is a simple daily "to-do list" keeping track of your daily priorities like appointments, showings, etc. Several free programs can help you with your to-do list, like Google Calendar or todoist.com, which keeps you organized on your smart phone and computer. Use it on ten different apps and extensions platforms for mobile devices, web browsers, email inboxes, etc.
4. Use time snippets effectively
Periods of time that we normally waste, called "time snippets," include time spent standing in lines, waiting for a meeting to begin, or being on hold. Your to-do list will help you get work done during time snippets. These non-wasted snippets will contribute to daily productivity.
Tip #2: Systemize your tasks
Effective time management requires a time saving system. Try the following systematic time-saving techniques:
Batching
Batching combines everyday tasks into fewer occasions. For instance, batch emails and phone calls two or three times a day at scheduled times. Screen phone calls with apps like Google Voice/YouMail to save time. Answering every call when it rings may waste time with people you don't want to talk with. If the caller considers the call important, he/she will leave a message to call back.
Time-blocking
Time-blocking requires setting aside specific times to accomplish important tasks with no interruptions, like calling clients back, social media, and managing transactions. Set specific times to begin and end so you won't waste all day on them.
Tip #3: Utilize time management tools
Here are some free time management apps that may come in handy for new and experienced real estate agents alike:
When you're new to the real estate industry, time management requires focusing your goals and priorities. Creating a time saving system and using online tools will help you work more efficiently. Saving time at work means more time to spend with your family and friends, and therefore helps you to achieve an ideal balance between your professional life and your personal life—a task that many new real estate agents find challenging.
Browse our blog for more tips and tools designed to help launch your real estate career. Not licensed yet? Earn your real estate license online at Colibri Real Estate.

About the author
Steven Rich, MBA has over three years of experience as a successful real estate agent. He was awarded the Top Condo Salesperson for two of those years by his real estate company. Steven has served as Associate Editor for a real estate magazine and is the author of a 104-page e-book on How to Buy, Develop, Lease, and Sell Real Estate.