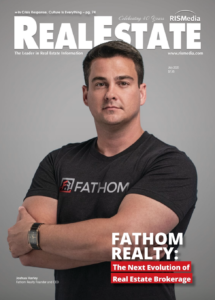 At Colibri Real Estate, we want our customers to have all the resources they need to be successful in real estate. That's why we've teamed up with RISMedia, the leading provider of the most relevant and up-to-date information related to the residential real estate market.
As their Strategic Education Partner, we are able to give our customers free access to the digital edition of the RISMedia monthly magazine.
This real estate magazine is full of thought-provoking and valuable content that prospective and licensed agents of all years of experience can apply to their careers. Here's a brief overview of what you will find in this month's edition.
Cover Story
Fathom Realty: The Next Evolution of Real Estate Brokerage
Joshua Harley, Founder and CEO of Fathom Realty, is pushing the envelope and disrupting the status quo. According writer Paige Tepping, Fathom is "a cloud-based, technology-driven, full-service real estate brokerage, now operating in 24 states." Their decision to go public in 2020 "will position Fathom as the first 100-percent commission, transaction-fee, non-traditional brokerage to go public on the NASDAQ."
In this cover article, Tepping interviews Harley and other Fathom Realty representatives about their thoughts on effective leadership, embracing an entrepreneurial mindset, building a profitable business, living in a virtual world, and more.
Read the full article on page 27 of the digital magazine.
Industry News
New NAR Member Benefit Partner Vets Client Leads, Saves Time for REALTORS®
Learn about the ways in which ReferralExchange, the National Association of REALTORS®' newest REALTOR Benefits® Program partner, provides value to real estate professionals. This article explains how ReferralExchange helps REALTORS save time by weeding out dead leads, nurturing prospects, and tracking progress.
It goes on to describe savings and free features for members. "NAR members can save nearly $600 in their first year with ReferralExchange, and ongoing savings annually thereafter."
Read the full article on page 50 of the digital magazine.
Policy News
NAR Unveils Implicit Bias Training for REALTORS®
This spring, The National Association of REALTORS (NAR) "teamed up with experts at the Perception Group to create a free online workshop to help members avoid implicit bias in their daily business interactions."
In this piece, NAR's Director of Fair Housing Policy, Bryan Greene, answers the following questions for real estate agents: What is implicit bias? How does bias affect the real estate market and my business? What can real estate professionals do to counter biases?
Read the full article on page 13 of the digital magazine.
Real Estate Tips and Stories
6 Steps to Hiring a Real Estate Assistant
This piece, written by the experts right here at Colibri Real Estate, walks you through the basic steps to hiring a real estate assistant to help with things like scheduling, taking calls, and handling everyday details that may distract from big-picture goals.
Get useful guidance on how to create a job listing, advertise the real estate assistant position, conduct an interview, talk compensation, onboard your new assistant, and assess their performance to ensure they're doing their job well and effectively fulfilling your day-to-day needs so that you can focus on growing your business.
Read the full article on page 49 of the digital magazine.
Create Listings in Any Market
"Instead of waiting for someone in your sphere to say they want to sell their home, go get listings yourself," says National real estate coach and creator of the 90-Day Bootcamp, Sherri Johnson.
In this helpful article, Johnson gives expert tips on how to go find the home for your buyers, maximize multiple-offer markets, micro-farm neighborhoods for future listings, and reach out to expired listings.
Read the full article on page 76 of the digital magazine.
Free Guide: Learn how much you can earn as a broker in our free Real Estate Income Guide.