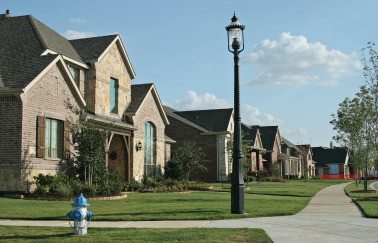 The old saying that "everything's bigger in Texas" is particularly the case for today's real estate market in the Lone Star State. But why?
Two of the most important reasons for this growth include the overall cost of living—which is more affordable than either of the nation's coasts—and the fact that Texas has no state income tax.
Factors like these create an attractive place for both people seeking affordable housing and companies looking for a business-friendly environment. For example, Toyota recently moved its U.S. headquarters from Torrance, California, to Plano, Texas—a well-to-do suburb just 20 miles north of Dallas.
Before we talk about why (and how) we recommend that you get your Texas real estate license, let's take a look at one more major reason for the state's recent successes: the incredible growth that's already underway.
Four of the five fastest-growing U.S. cities are in Texas
According to the U.S. Census Bureau, four of the five fastest-growing cities in the United States are in Texas. In fact, Southern cities are growing faster than any other region in America.
Let's take a look at these four Texas boomtowns:
Conroe: A suburb of Houston, Conroe enjoyed a 7.8 percent growth rate between 2015 and 2016.
Frisco: This northern Dallas suburb had a 6.2 percent growth rate in 2016, and recently became the home of the Dallas Cowboys' World Headquarters.
McKinney: Another suburb north of Dallas (actually Frisco's neighbor to the east), McKinney saw a growth rate of 5.9 percent in 2016.
Georgetown: A city near Austin in central Texas, Georgetown's growth rate was 5.5 percent in 2016.
Note: Number 4 on the U.S. Census Bureau list is Greenville, South Carolina; Georgetown is number 5.

Texas real estate agents: What you need to know
A rewarding career in real estate is easier to start than you might think. One convenient way to get started is by getting your pre-licensing courses at Colibri Real Estate.
Here are some important things to know about getting licensed in Texas (read this article for more details):
The three primary qualifications are being at least 18 years of age, a U.S. citizen, and a resident of the state of Texas. (There's also a background check.)
To earn your Texas real estate license, you need to complete a total of 180 hours of pre-licensing courses. That sounds like a lot, but it's essentially 23 eight-hour work days—or a little over three weeks of studying. (You'll also have to complete a course final to sit for the real estate licensing exam.)
The real estate courses cover several distinct areas:

Principles of real estate
Law of agency
Law of contracts
Promulgated contract forms
Real estate finance

One benefit of doing your pre-licensing course requirements in Texas is that you can complete all of them from the comfort of your own home through an accredited online real estate school.
There are several additional steps in the application process, such as obtaining a real estate broker sponsorship, paying relevant fees, and taking the Texas real estate license exam. You can find more information about the process here.
Now is a great time to launch a real estate career. Find out more by downloading our free guide: Is a Real Estate Career Right for You?