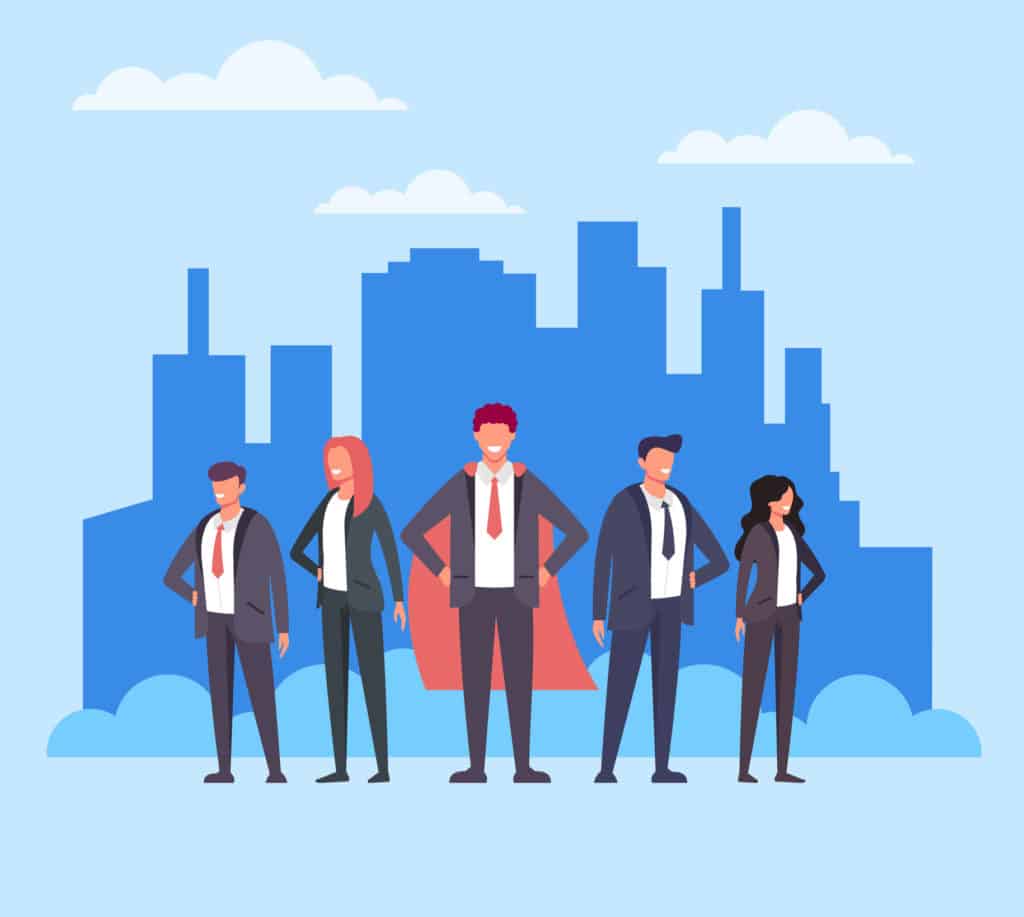 Most brokers dream of the day they'll make their first hire.
But what many don't know is that there is more to hiring than what catches the eye. It takes a strong leader with a sense of purpose to build a rockstar real estate dream team. And building such a team takes time and comes with many challenges.
Nevertheless, you'll certainly make mistakes along the way.
Hiring the wrong real estate agent can waste your company resources and ruin your business reputation. The last thing you will want to do is hire someone that is best served being a flat fee MLS agent doing nothing more than sitting behind a desk all day like a robot. The right candidates come with specialized skills that can help you maintain a robust network of happy clients and close more deals. In the industry, these are known as real estate rockstars or top producers.
In other words, those who you can truly be proud to have within your company culture.
So the big question is; where do you begin building your ideal real estate team? In this post, we'll share some handy recruitment tips for building a result-driven team of real estate agents.
1. Figure Out Your Ideal Team Structure
"The foundation of building a profitable real estate team is to have your house in order first." Jack O' Brien—a renowned real estate agent.
In line with Jack's words, building a successful real estate team means having a solid foundation in place. The first step in laying this foundation is to determine the perfect organizational structure of your team.
Map out the structure of your organization. Will you need a personal assistant, transactions coordinator, or just agents? And how many departments do you need?
Keep in mind that candidates will want to know your growth strategies and what opportunities will be available for them in the future. Besides, figuring your ideal organization structure will help you budget accordingly and find the right talent.
FREE EBOOK: Accelerate your rise to the top of your market with these actionable tips in our free Trick of the Trade: Advice for New Agents ebook.
2. Set SMART Goals
Once you draw a clear picture of your ideal team structure, you'll want to consider the goal and purpose of having additional team members.
Ask yourself, what do I seek to achieve through hiring? Be sure to make your goals clear and SMART (Specific, Measurable, Achievable, Relevant, and Time-Bound). Typical SMART goals might be to:
       

Close 10% more deals each month

       

Grow revenue by 20% each month of this year

       

Respond to listing emails within 30 minutes of initial outreach
Establishing these goals and figures will help you determine how many staff you need. The more aggressive the figures, the more the staff you need, and vice versa.
3. Have Your Systems in Place
Before you start hiring, it's important to first ensure you have in place all the resources you need to hire, train, and facilitate teamwork. 
Most agents start with building a team, then try to systemize everything down the line. While this might seem feasible to those with a budget constraint, it's a remedy that can negatively affect the quality of your hire.
Keep in mind that candidates will want to know what systems you use for transaction management, collaboration, and lead management.
This information will help them know your competitiveness in the market and paint a picture of what their typical day will look like. Besides, no one would want to work with a brokerage that relies on manual and outdated work processes.
4. Use a Personality Assessment Tool
When building a team, you're not only looking to hire talented people but to get people who naturally fit for the role you're filling.
That said, successful realtors do DISC testing to ensure the hired candidates have the skills to succeed in sales. When someone is a bad fit because they have an energy-sucking attitude or don't get along with others, be quick to fire.
One toxic employee can ruin the morale of the entire team. The sooner you let them go, the better of the team will be. The use of a personality assessment tool when recruiting can help to weed out candidates who lack the personality traits the job requires.
5. Define Your Offering as an Employer
To attract top talents, you'll want to offer an attractive benefits package.
A 2018 study by Genesis Associates found that 40% of employees are motivated to work hard by monetary incentives. Potential candidates will want to know the benefits and perks the job offers, and you can be sure to attract top talents if the pay is good.
If you can't offer competitive salaries, look for alternative ways to compensate your employees. For instance, you could offer growth opportunities, extra time, or even free vacations.
The Bottom Line
Just like winning clients or succeeding in stock trading, building a rockstar real estate team requires thoughtful strategic planning. Following these tips will help you to attract and retain the best talent in the industry. 
About the Author: Stewart Dunlop looks after content marketing a Paperless Pipeline and has a passion for writing articles that users will want to read. In his free time, he likes to play football and read Stephen King.