Editor's Note: This information has been updated to reflect the most recent State of the Real Estate Agent survey results conducted in the summer of 2019. For more information about the survey and methodology, download the free report.
Our recent survey of top real estate agents revealed that the highest performers in real estate all have four critical habits in common. While some markets are more profitable than others, anyone who's succeeding in real estate is likely using some of these tips to push their careers forward.
Here are the four top ways top real estate agents are earning more.
FREE Guide: Earn more now with our 2019-2020 Real Estate Agent Income Guide.
1. Top real estate agents invest in professional development
You've got to invest in your own professional development if you want to make top dollar. Our survey indicated that real estate agents who identify as experts in investing in professional development earn more than double those who got a failing grade. Key takeaway: Professional development can have a high ROI.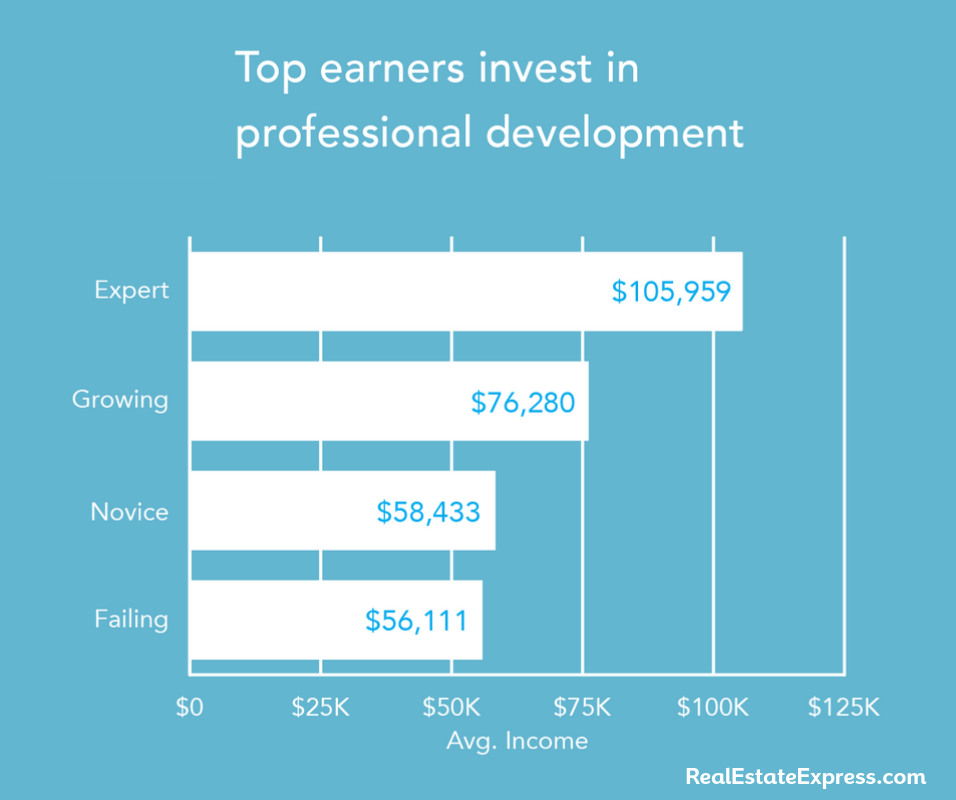 2. Consistently find quality leads
It goes without saying, but if you don't know how to pull in quality leads, your business will suffer. Top real estate agents find a way to bring in great leads and do it consistently!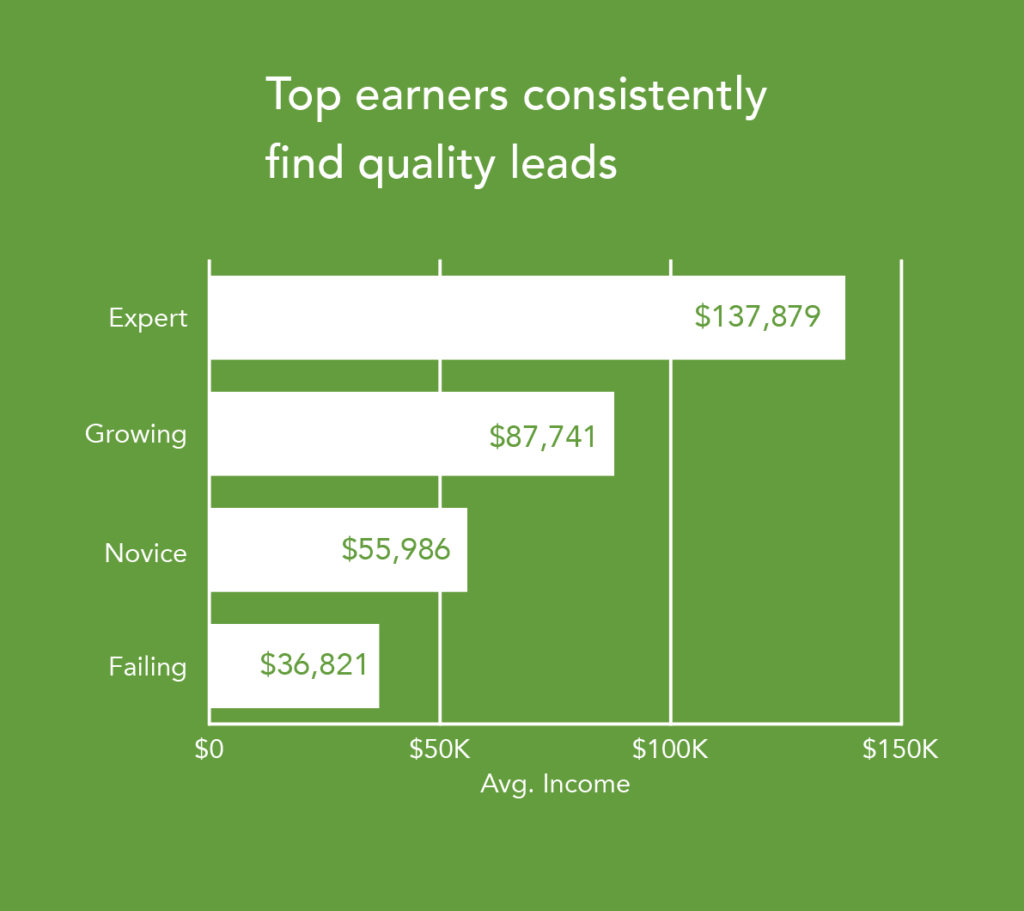 3. Get referrals
Top earners in real estate understand the importance of getting referrals from past clients. Those who identified themselves as experts in this category reported an average annual income of $115,557 while those who said they felt like they were failing at generating referrals had a yearly income of $38,854.

4. Set and hit goals
Agents who consider themselves very successful at setting goals earn an average of $51,675 more than agents who are failing at goal-setting. Whether it's determining how many sales you want to close in a year or how many leads you want to acquire each week, giving yourself an ambitious yet attainable goal can help keep you motivated and productive. Make sure your goals are S.M.A.R.T. (Specific, Measureable, Attainable, Relevant and Timely).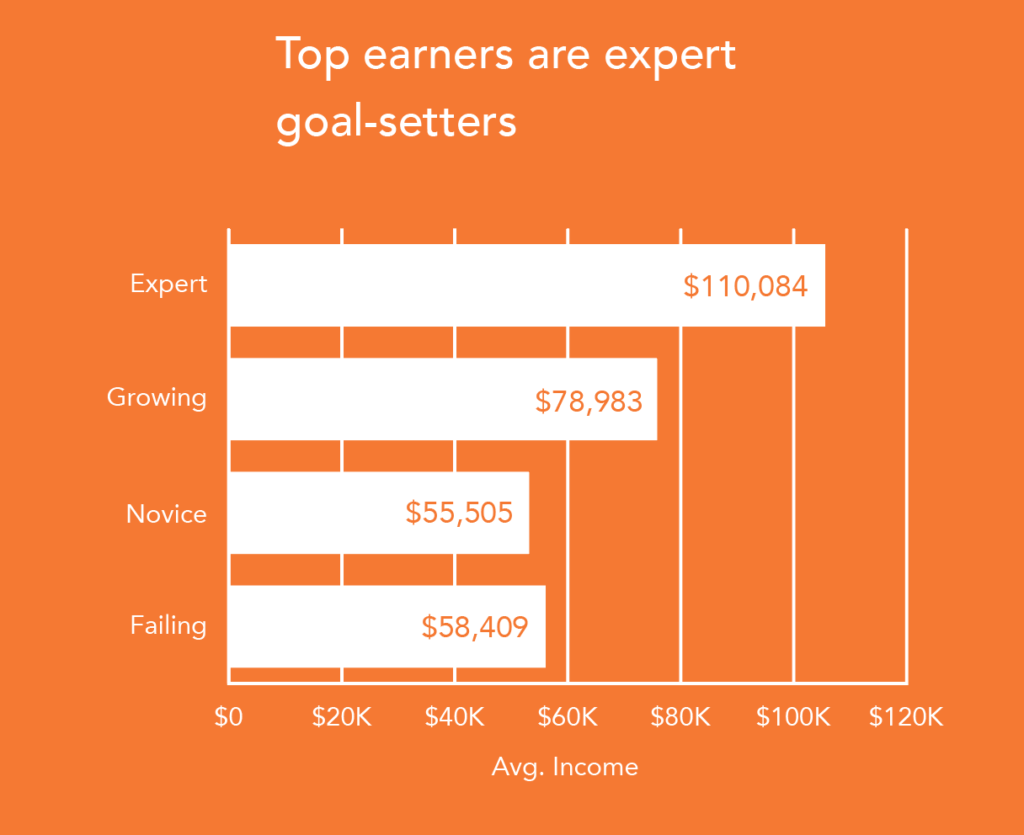 Other areas of expertise also help
While these are the top four categories that can make a difference in how much you take home every year, our report revealed ten ways top real estate agents are earning more and the income variance between those who are failing in each category and those who are finding success.
Our recommendation? Take a look through the ten ways agents are earning more and determine where you're doing well and where your skills need work. If you're having trouble figuring out how to take your real estate career to the next step and become a top real estate agent, seeing the habits that other people ace will help you assess the areas in which you can improve.