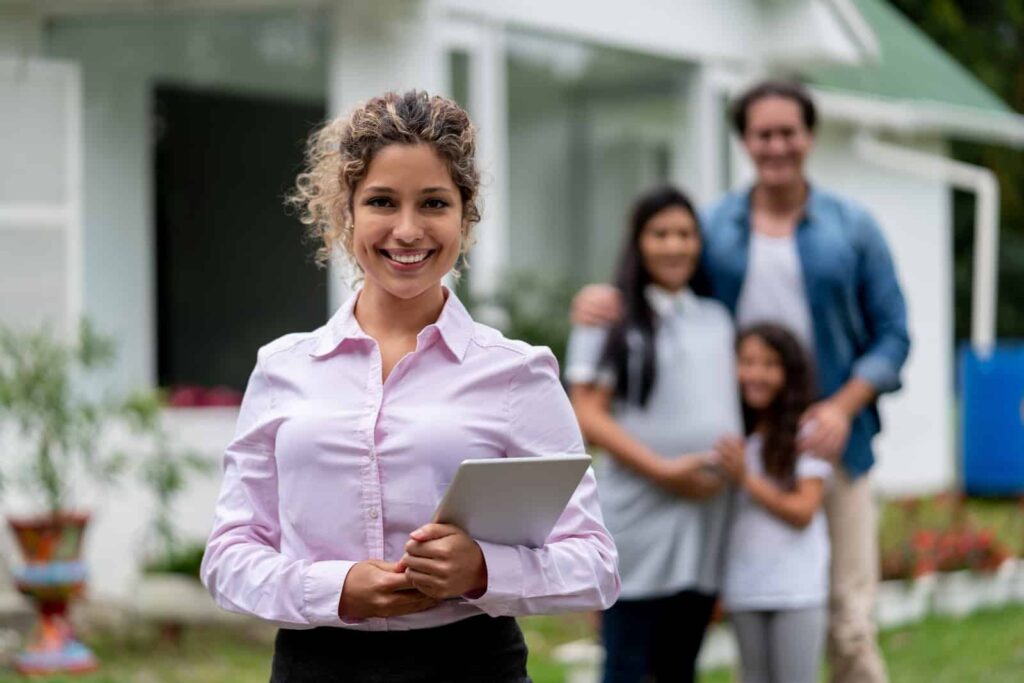 You don't have to have a college degree to become a real estate agent in California. In fact, you can complete the licensing process within a few months. Keep reading as we walk you how to become a real estate agent in CA. You could be helping clients buy and sell property in Pasadena or San Francisco less than one year from today!
Are you 18 years old? Do you have a Social Security or individual taxpayer identification number (ITIN)? Can you pass a background check? If so, you can start the process to become a California real estate agent today.
Here's the step-by-step process.
How to Become a California Real Estate Agent in 5 Steps
You must complete coursework, pass a test and a background check, and fill out an application to become licensed as a California real estate agent. Don't stress about the process – we are here to help!
FAQ: How long does it take to become a real estate agent in California?
It takes about four months to become a real estate agent in California. Keep in mind that different people may need more or less time to complete the pre-licensing classes and prepare for the licensing exam. 
If you want to be showing houses by the end of the next season, you need to get started today!
Alert! Starting January 1, 2024, all California real estate salesperson exam applicants must have completed an updated course in Real Estate Practice, which covers implicit bias and fair housing laws. 
This is important to be aware of as you consider your personal timeline for taking pre-licensing coursework and completing the real estate exam. 
Step 1: Enroll in a California real estate license course.
The California Department of Real Estate requires want-to-be agents to take 135 hours of coursework before sitting for the real estate licensing exam. 
The pre-licensing course covers serious topics like escrows, mortgage loan brokering and lending, and the legal aspects of real estate. 
You need to understand these topics to pass the licensing exam – and to help your future clients as they buy and sell properties.
There are both online and in-person real estate schools in California. Most people take the courses online because that method offers more flexibility than in-person classes and allows you to review material quickly as needed. 
As you research online real estate schools in California, look at demos of the school's materials to understand how the subject matter is presented. Read reviews of online schools and look for pre-licensing packages that offer test-prep materials.
Step 2: Apply for your California real estate license and exam.
Once you have completed your coursework, begin the application process by visiting the California Department of Real Estate eLicensing System. 
You'll be asked for your address, Social Security number (or ITIN), and driver's license number.
You will be asked to provide copies of official transcripts that show successful completion of your pre-licensing courses. You must also complete a Live Scan Service Request (RE 237) form for your background check.
There's a $60 fee to submit your exam application. (Please note that some people pay $305 at this time, which covers the exam and license fee.) 
After the application is processed, you'll receive a notification of your exam's date, time, and location. California real estate exam sites are in the following metropolitan areas: LaPalma, Fresno, Oakland, Sacramento, and San Diego. 
Step 3: Take and pass your real estate salesperson licensing exam.
Complete practice exams and review your course materials to study for the California real estate salesperson exam. Some real estate pre-licensing packages come with test-prep materials. 
On your test day, arrive at your testing site 30 minutes before the exam starts with an acceptable form of ID. 
Review the guidelines for taking the exam. (Cell phones, purses, and wallets aren't allowed in the testing room!) 
You'll have three hours to take the multiple-choice exam, and you'll immediately learn whether you passed.
Step 4: Join a California real estate brokerage.
The State of California requires real estate salespeople to work under a broker. A broker is a real estate agent who has worked successfully in the industry and has passed the California broker's license exam. 
It's worth noting that some jump into their real estate careers with both feet and begin working full-time, growing their client list. Others work part-time in real estate, so they have another source of income while learning the ropes. 
Step 5: Get fingerprinted and complete the licensing application.
If you didn't pay your license application fee in step two, you must complete the California License Application Form and pay the $245 now. You'll also need to visit a Live Scan fingerprint service provider for your background check, which costs an additional $49.
Then, you wait for the California Department of Real Estate to process your license application. Before you know it, you will be receiving your first commission check!
Next Steps
We've outlined the steps to become a real estate salesperson in California. We know it seems like a daunting process, but last year alone, almost 2,000 people in California earned their first real estate license. You can do it too!
Let's circle back to the first thing you must do – enroll in a California real estate school.
Colibri Real Estate (formerly Real Estate Express) has helped hundreds of thousands of people earn their real estate licenses. Our courses are expertly designed to explain complicated material in an easy-to-learn format. We are experts in providing quality online real estate education.
We are so confident that we can help you earn your California real estate license that we offer a pass-or-don't-pay guarantee with most of our pre-licensing packages.
When you buy your pre-licensing courses from Colibri Real Estate, you'll receive helpful exam prep materials and support from state-approved instructors.
Our students return to us when they need to take continuing education classes to maintain their license – and when they are ready to upgrade their license to become a broker.
Enroll in Colibri's California pre-licensing courses today, and in just a few months, you'll be showing houses in L.A. or estates in wine country.