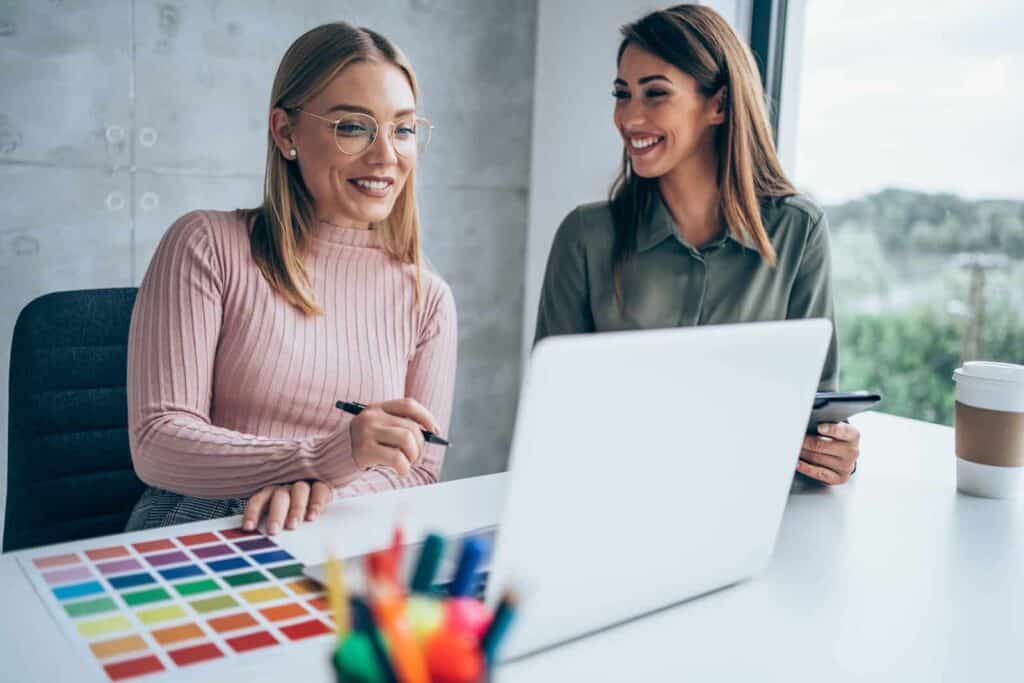 The housing market is in something of a boom at the moment, likely triggered by the events of the past year and a half. We're spending more time at home these days, and many are finding that they're ready to buy a house that they like being penned up in.
With more than three million active real estate agents operating in the United States alone, boosting your marketing efforts isn't just a question of effectiveness. It could be an issue of survival for your real estate business.
Here are ten top tips to turn your real estate marketing into gold.
1: Use Color To Catch The Eye
We're drawn to bright colors, but it's easy to get overwhelmed if there are too many or too much of any one shade. The most effective marketing uses only a few colors in branding.
A quick search of big real estate firms like Coldwell Banker and Remax will reveal that many of them use blue and/or red for their branding. These are excellent choices, as blue is evocative of tradition, reliability, and trust, and red is one of the most dynamic colors, most likely to move the viewer to action. Use color in your branding to draw the eye and to evoke the desired emotion in your audience by taking the psychology of color into account.
2: Hone Your Logo Design
Whether you have an established real estate firm or you're launching a new business, your logo is the single most important piece of branding. So it's vital to use a design that stands out as unique, while accurately representing your business.
You can use the services of a professional designer or learn how to use a logo maker tool like Logo Design, and create one yourself. Either way, make sure to:
Examine what the competition is doing so you can avoid any look-alike logos

Stay true to the personality of your brand

Get feedback from your target demographic
3: Use Branded Materials
Any good real estate agent knows the value of a business card. But don't settle for just any business card. Consider touches that will make it unique, such as a 3-D card or a tabbed design.
Along with that, any branded materials that can be handed out for publicity is a good idea, especially if you're just getting started. People like free things, so if you can give out pens, t-shirts, and coffee mugs, they're likely to remember your company and seek you out when the time comes to start home-searching.
4: Make Your Website User Friendly
Website design can be complicated, but it doesn't have to be. The most important factor for a real estate website is how user-friendly it is. Make sure that your navigation is clear and easy to follow. Keep the important information — like your contact info — easily available. Keep your load times down by optimizing photos.
A user-friendly website will go a long way towards boosting your credibility with your audience.
5: Create A Mobile Friendly Site
Along with those lines, make sure that your site design is adaptive for mobile access. More than four billion people — over 90% of the global internet population — use their smartphones for internet access, which means that you're even more likely to get a site visitor via a phone or tablet than you are on a laptop.
Short circuit frustration by making your site mobile-friendly.
6: Interact On Social Media
More than three and a half billion people use social media platforms every day, and more than half of them are turning to social media to research products and brands. So if you're lagging on the social media front, you're missing a significant portion of your potential audience!
Set up social media accounts on the platforms most likely to be used by your target demographic, and make sure to interact whenever possible. Share content and respond rapidly to messages, whether questions or concerns.
Free Guide: Accelerate your rise to the top of your market with this free guide—Trick of the Trade: Advice for New Agents.
7: Make It Easy To Share
While on the subject of social media, you can help your target audience to do your marketing for you if you include sharable buttons and links on your listings and web pages. It will also make it easier for a potential client to get feedback from friends and family, as we all like to talk about the houses and properties we're considering.
8: Sponsor An Event
Sponsoring an event gets your name out in the community and attaches it to positive emotions. Sponsor individuals in walkathons and other events, or put up a tent at a local fair or gathering and display photos of your listings.
9: Enable Virtual Tours
Setting up virtual tours through your website helps your business in a variety of ways. For one thing, it makes it more convenient for the consumer, as they don't have to leave their house for a walkthrough of a property they're interested in. This also saves time and money for the real estate agent, too.
Virtual tours are increasing in popularity, and homebuyers are searching out agents and firms who can provide for this need.
10: Add Value With Expert Advice
If you're a real estate agent, you know that selling a home isn't just about setting a price and putting it on the market. It's also about showing, staging, comps, location, and keeping a finger on the market's pulse in the area.
But not every home buyer or seller knows all the ins and outs of the real estate business. That's what makes your expert advice such a valuable tool, and an excellent way to boost both your marketing opportunities and your value in the eyes of your audience. 
Start a blog with home selling/buying tips, include experiences and interviews with clients, and make sure to use SEO keywords to increase searchability. The more content you produce, especially when it's valuable, the more opportunities you have to market your real estate agency. 
Applying all ten of these tips will result in a serious boost to your marketing efforts.
Author Bio: Zaheer Dodhia is a serial entrepreneur and founder of Logo Design. His passion is to solve small business and startup problems with affordable branding solutions. His deep understanding of business needs, and expertise in graphic design and search engines have motivated him to spearhead several online projects with tremendous success. He has been featured in publications like Forbes, Entrepreneur, Business Insider, etc. Connect with him via LinkedIn or Twitter.